Moving Mountains Best Practices
2005-2006 Award Winner Two
Community Supports for People with Disabilities Program
South Central College, North Mankato, Minnesota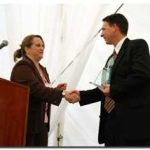 The Community Supports for People with Disabilities Program (CSP) is an accredited post-secondary academic program. This program is offered in a face-to-face format or as an online option through South Central College in North Mankato, Minnesota. Students from the six other Minnesota State College and Universities system can complete the CSP courses online while completing other required courses for the certificate, diploma, or Associate of Science degree at their home college. The CSP teaches students to perform the duties of a Direct Support Professionals (DSPs) at a mastery-skill level in accordance with the Community Supports Skill Standards. Students graduating from the CSP are eligible for positions in the health, human services, and education fields, working with children, adolescents, young adults, adults, and the elderly. Graduates support people with developmental disabilities, physical disabilities, mental illness, substance abuse, traumatic brain injury and related conditions. Students acquire knowledge and skills for performing duties as DSPs in residential, vocational, recreation, health, and education settings.
Advocates, self-advocates, staff, family members and team members participate in many of the classroom sessions. Students are required to participate in service learning activities with advocacy groups such as volunteering to serve at local conferences and workshops, distributing CSP information at local conferences, or presenting health and human services information to local K-12 students. Students are also required to complete an internship in a health, residential, vocational, educational or recreational setting with people with disabilities. A mechanism has been established to allow students who are not in the Mankato area to complete internships in their home communities.
Students who complete the CSP earn 26 college credits in 8 courses. In addition to completing the certificate coursework, students gain knowledge and skills in human behavior, communication, and medication. Upon completing the coursework from the certificate and diploma the student have the option to complete the A.A.S. degree, which requires an additional 20 credits of transferable general education coursework.
The diploma option develops supervisory and leadership skills and allows students with 2 years of experience to obtain the Designated Coordinator status which qualifies students to work in supervisory and middle management positions in many human services settings. The Designated Coordinator status is acknowledged in the state of Minnesota. The A.A.S. degree also entitles the student to the Designated Coordinator status. In addition, the A.A.S. degree offers graduating students the option to continue their education at a four-year institution. Enrollment in the CSP has increased from seven students in 1998 to approximately 135 part time and full time students in 2005. Students are enrolled from throughout Minnesota, Wisconsin, Iowa, and Canada. The overall placement rate for CSP students is 98% (including those students who were employed when entering the program).
The CSP has incorporated professionalism and leadership into the DSP occupations and agencies are recognizing graduates as professionals who are committed to providing the most appropriate and least restrictive supports and services to people with disabilities, their families and network support teams.
For more information, contact: W.C. Sanders, 1920 Lee Blvd., North Mankato, MN 56003; Phone: 507-389-7299; Fax: 507-388-9951; Email wc.sanders@southcentral.edu. The program Web site can be found at www.southcentral.edu/dept/csp.