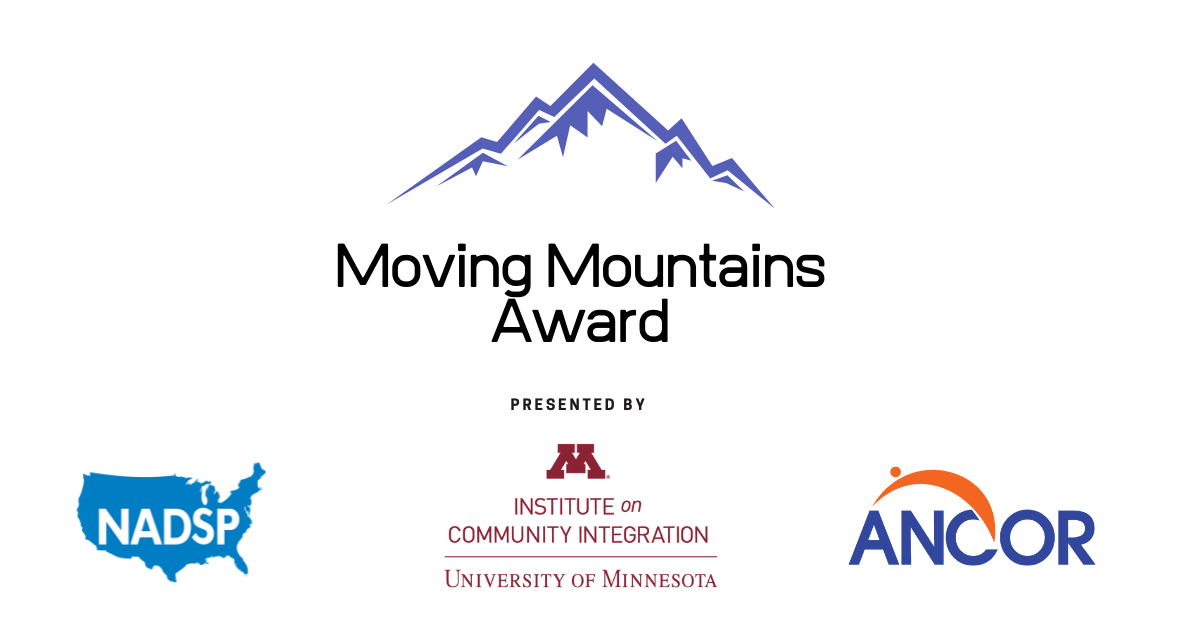 News: 2022 Moving Mountains Awards Winners
Congratulations to the Moving Mountains Award Winners
Through the Moving Mountains Award, the Institute on Community Integration, the National Alliance for Direct Support Professionals, and ANCOR recognize organizations using leading practices in direct support workforce development that result in improved outcomes for people with disabilities.
We are pleased to announce that Core Services of Northeast Tennessee's DSP Retention Initiative and The Arc Mid-Hudson's DSP Success Coach Program have been awarded the Moving Mountains Award for 2022!
Core Services of Northeastern Tennessee
Core Services of Northeast Tennessee is a private non-profit organization and offers a range of support, including supported living, employment, respite, personal assistance, funds management, nursing, and more. In 2016, the relatively new leadership team of Core Services saw the HCBS Settings Rule as an opportunity to move well beyond meeting the rules of minimum compliance. Looking for available road maps, they took advantage of several opportunities, including enrolling in the Tennessee Department of Intellectual and Developmental Disabilities (TN DIDD) "Becoming a Person-Centered Organization" initiative. The organization also achieved The Council on Quality and Leadership's Person-Centered Excellence Accreditation. This was the start of Core Services' transformation to a true person-centered model, with focus shifting from developing good services to creating great lives.                                                                                                         
The success of Core Services' transformation has been dramatic. The agency went from 40% facility-based services to 100% community-based services and from no persons supported being employed to 43% being competitively employed. Their vacancy rate among direct support professionals (DSPs) dropped from 13% to 6% and turnover rate from 60% to 35%. During this time, DSP wages increased from an average of $11.05 to $15.29, and benefits including a 401(k) savings plan and life insurance were added. These are just a few of the accomplishments of Core Services' transformation.
The Arc Mid-Hudson
The Arc Mid-Hudson, a chapter of The Arc New York, has always been committed to supporting DSPs through educational and professional opportunities. Supported by a grant from the New York State Department of Labor grant, they launched the DSP Success Coach Program in 2021. Through this program, three seasoned DSP success coaches provide 1:1, on-the-job training at each new DSP's worksite during their regularly scheduled work shifts. This removes the burden of DSPs having to commute and adjust their schedules for training and replaces hypothetical, academic learning with real-life, hands-on learning. DSP success coaches model services that are individualized and community based.
The DSP Success Coach Program was developed in response to orientation feedback surveys, which consistently reflected DSPs feeling overwhelmed by training demands and a desire for more practical hands-on learning. This program has resulted in a 10% decrease in new hires leaving within the first year. Nearly three quarters of the 204 new DSPs who received success coaching are still employed, and 2% have been promoted to higher-level DSP or frontline supervisor positions.
"We congratulate the dedicated staff and board of directors at Core Services and The Arc Mid-Hudson," said Amy Hewitt, director of the Institute on Community Integration, "and look forward to learning more about their successful workforce development strategies and celebrating this distinguished achievement with them at the Reinventing Quality Conference."
The 2022 Reinventing Conference will be held July 31-August 2 in Baltimore, MD.
You May Also Be Interested In …