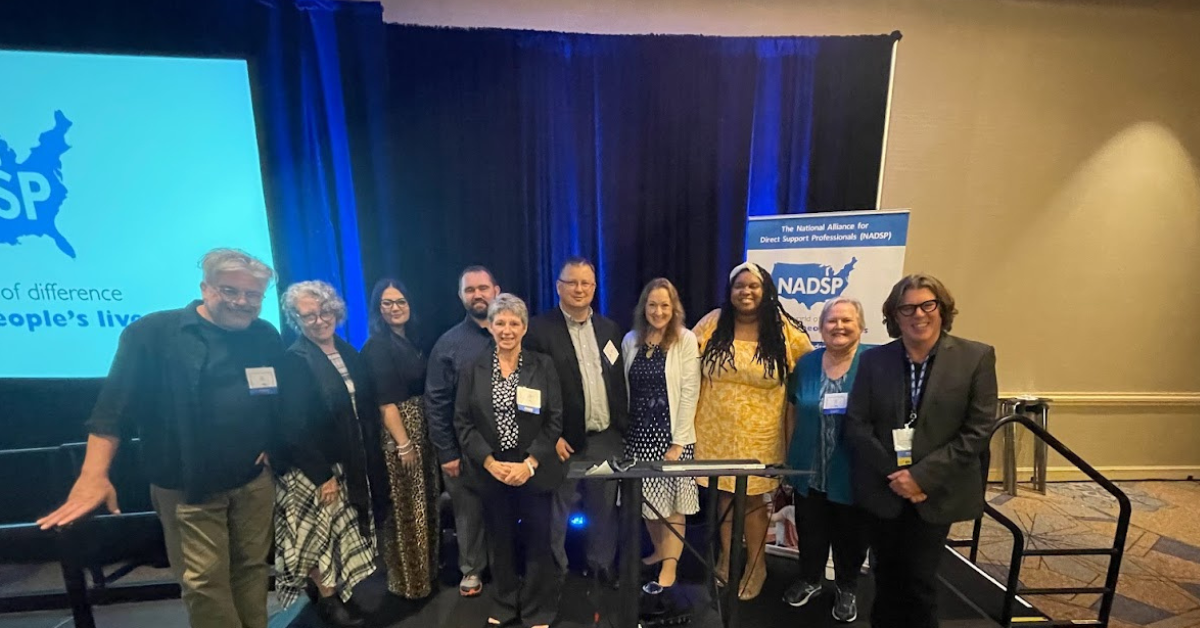 The Thanksgiving holiday tends to be a time for reflection, connection, and especially appreciation. It's no different for all of us here at The National Alliance for Direct Support Professionals (NADSP), and we certainly have a lot in our world that makes us extremely thankful.
We hope everyone can have a safe and healthy Thanksgiving. Most especially to all the direct support professionals may be working on Thanksgiving instead of spending time with their families. As we head into Thanksgiving weekend, it is an ideal time for the NADSP staff to reflect on our gratitude.
We are thankful for Direct Support Professionals across the country, who are dedicated to making a world of difference in the lives of people with intellectual and developmental disabilities. The demands placed on this vital workforce are overwhelming, yet they continue to carry on in their important work demonstrating professionalism, competence, and an unwavering commitment to quality.
We are thankful for human service organizations throughout the nation, that are dedicated to elevating the status of Direct Support Professionals so that people receiving supports are empowered to live a life of their choosing. Organizations confront so many challenges in funding, staffing, regulatory changes, and more, yet they remain focused on providing person-centered services through creative and effective approaches.
Staff Reflections
We asked members of our staff to reflect on their gratitude for the season. Here are their responses:
Joseph Macbeth, President and CEO:
As a direct support professional, holidays can often be busy and stressful. The reality is that many of you will be working on Thanksgiving. I really hope that you find some time to spend with your families and loved ones to eat, drink, laugh and love one another. However, my deepest wish for this Thanksgiving holiday is that all of you have an opportunity to take some time for yourselves and "just be". In many ways, Thanksgiving is the most pure and simple of the holidays – all you have to do is be reflective and eat! Also know that the millions of people with disabilities and their families who rely on your essential work are grateful for you, even if they don't always show it. I wish nothing but peace and happiness to all of you.
Desiree Loucks Baer, Chief Operating Officer:
Thanksgiving has always been a huge time of reflection for me. It is the time I think over the journey my life has taken, embracing those family and friends I love so very much as well as taking the time to miss and reflect on those who are no longer with me. I have so much to be grateful for and this is the time of year I truly try to fully appreciate all the good that life has bestowed upon me. I have the blessings of my children, both going on to establish successful careers and lives. I am fortunate to continue to enjoy time with my parents and my 99 year old mother-in-law. Each of these people have provided me with unwavering support and love which I am truly grateful to embrace. I have had the blessing of finding a wonderful partner, who has been a rock of support and has given me hope for the future. I also have the benefit of continuing to love my old dog Chase and his now best friend Snoop Dogg (a supersized German Shephard).
Reflecting on the work I get to do, I am thankful for my job. I have the opportunity to work with so many people throughout the year, helping DSPs get the recognition for the work they tirelessly do, and helping them to gain the professional development and access to relevant information that makes their jobs easier. I have the benefit of doing this work alongside some of the greatest team members that any person would want to have by their side. This group of people demonstrate the best in enthusiasm for the work they do, caring for others, unending creativity and loyalty for the mission of the NADSP. It makes going to work every day meaningful and provides a level of comfort and stability no matter what personal challenges may occur.
As we approach Thanksgiving this year I look forward to carrying on some long held traditions and embracing some new practices that may become traditions for the future. I wish each and every one of you a blessed season. Whether you get to spend the day with your family or be part of making the day special for those you support, I hope that you can take the time for your own reflections and that your reflections help you appreciate all that you have and all that you give to the lives you touch.
Garrett Cole, Chief Financial Officer:
This year has felt like the dawn of a new day, and for that, I am thankful. I've seen what feels like less sickness and anxiety surrounding the COVID pandemic, and more people focusing on re-starting community programs and old traditions that were put on hold in 2020. This year, I attended my first in-person NADSP Annual Conference in Pittsburgh, where I met representatives of the DSP and Provider communities who gathered from all over the country, as far away as Alaska. I heard motivating keynote presentations and sat in on a variety of breakout sessions that were informative and enlightening. I am thankful for being able to make in-person connections, and for the DSP's and self-advocates who were able to share with me some of their experience and perspective. I heard from people who were working two or three jobs to provide for their families, from people with disabilities who had spent 20+ years advocating for basic human services and consistent care standards, and from families trying their best to support a loved one. I am thankful for the community of people who have come into my life over the last year, and I hope they can take a moment to reflect on their own year during this Thanksgiving season.
Dan Hermreck, Director of Certification and Accreditation:
I am thankful for the E-Badge Academy! And when I say that, I don't mean the software platform. I mean all the people who are a part of it. The reviewers who choose to dedicate some of their time to providing both validation and feedback to DSPs, the local administrators who provide DSPs with the support they need to be successful,  the DSPs who take the time to tell us how they are using their professional skills each day, and most especially the growing team at NADSP who makes the whole thing run smoothly. I hope everyone involved (and everyone else as well) has at least a little bit of time to relax and enjoy the holiday.
John Raffaele, LMSW, Director of Educational Services,:
I feel like the luckiest person on the planet.  I have a family I adore, two dogs that make me very happy and a home that is amazing.  I love my occupation. Working at the National Alliance for Direct Support Professionals is indeed a great honor and blessing.  I get to meet direct support professionals and people with disabilities from all around North America.  As much as travel can be challenging, I am incredibly fortunate to be able to visit so many organizations and people from all around the country; people who are involved in ensuring quality support for people with disabilities.  Lastly, I am grateful to the incredible team at NADSP.  Happy Thanksgiving.
Nicole DamaPoleto, Office and Communications Manager:
I am so grateful for all of the folks doing important work all over the world, despite the many challenges involved. I am so grateful for the work of the DSPs who work tirelessly to support others including my own family.
Turkey day is always a time for me to reflect on the past year. I always love to hear from my colleagues about what they are grateful this time of year. Gratitude is a practice that I always love to do when I'm not feeling my best. It helps me to see the light around me. I am feeling very grateful for all of the people and opportunities in my life. I have to say – I'm feeling extra grateful this year for my husband. I'm grateful for our family, friends and the growing NADSP team. Happy to be continuing to grow and remembering to always be looking for the light around us.
Janet Wilson, Certification and Accreditation Manager:
Although Thanksgiving is often thought of as a family holiday, to some, it is an occasion to remember to give back to our community in return for all that the community has given us.  It is in this vein that I fondly recall a memory of my time as a DSP, celebrating the holiday with other DSPs, those we supported, and their families. Everyone brought something of their own to the table—if not new food, a new way of preparing it, all following the lead of those we supported. The camaraderie of the group was felt by all of us and something that will remain with me forever.
Kathy Brown, NYS E-Badge Academy Administrator:
I am very fortunate to now understand the gift to be grateful. Not just at Thanksgiving but each day, when the sun rises and sets, I purposefully focus on all that I have and I am grateful for that day. My family and their well-being, body, mind and spirit as well as myself. For that I am truly grateful. I continue to be grateful to be working with people who passionately believe, as I do, that all people deserve to be happy and live the life of their choosing. That the DSPs are the foundation of that truth for the people they support. And that I can support and advocate for those DSPs to be able to do that role with pride, dignity, and with quality.
Wishing you all the gift of gratitude and the blessing of hope this Thanksgiving!
Rachel Jacob, NYS E-Badge Specialist:
As the newest member of the NADSP team, I want to express deep gratitude not only to this organization for providing folks like me with opportunities, but also for forging the path ahead for countless members of the Direct Support workforce. Each testimonial I review in the E-Badge Academy, is proof of the invaluable work being done day in and day out by Direct Support Professionals, and the teams who support them. During this time of thanks, I hope we all find joy in our shared experiences and comfort in knowing we are creating a positive ripple effect that resonates throughout each community.
Finally, we are thankful for those who support the mission, vision, values, and guiding principles of NADSP. Without this backing, our important work would not be possible. As we approach the end of 2023, we're specifically appreciative for the numerous organizations that show their support through NADSP Membership. To the thousands upon thousands of employees working at these organizations throughout across North America, we appreciate your involvement in our national network.
As we look ahead to our 2024 NADSP Membership drive, we are excited to see the strengthening of relationships with our current partners, as well as the establishment of new ones through our national network. These connections are of critical importance to all of us here at NADSP, and for that, we are truly thankful.
You May Also Be Interested In …