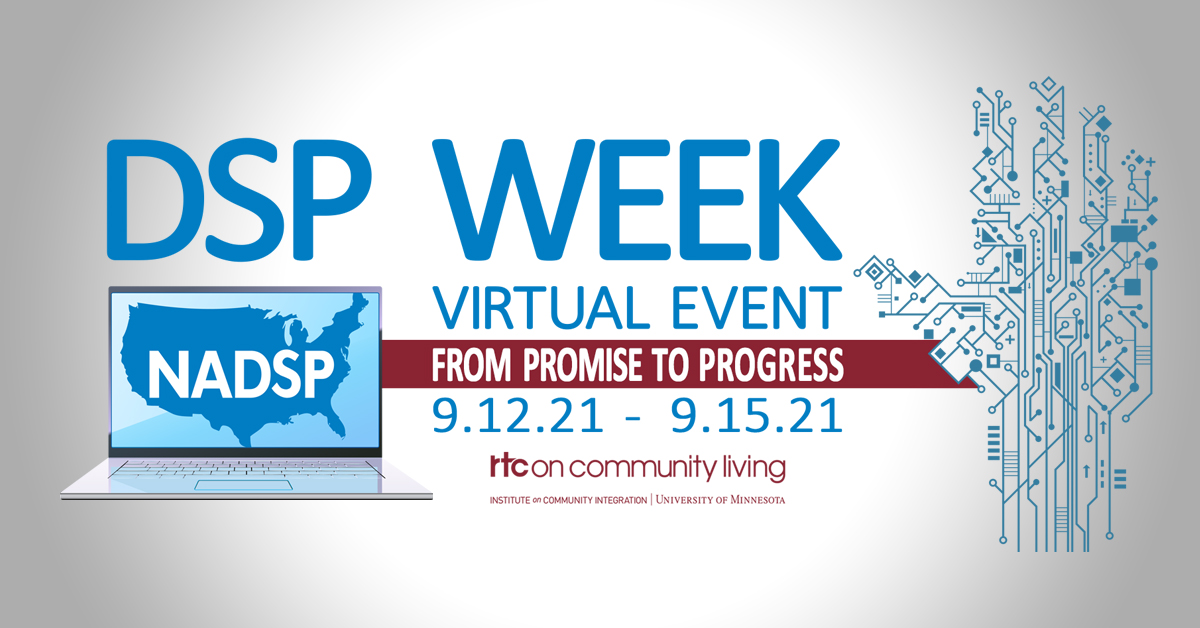 2021 Virtual Event: From Promise To Progress
About The 2021 Virtual Event
From September 12th – 15th, NADSP and the Research and Training Center on Community Living from the Institute on Community Integration at the University of Minnesota, hosted our second virtual event 'From Promise to Progress.' It coincides with National Direct Support Professional (DSP) Recognition Week, which takes place from September 12th – 18th. Similar to the 2020 event, it was completely free to attendees and we were inspired that so many people participated in the event.
The theme 'From Promise To Progress' builds off of the 2020 theme 'From Praise To Promise.' It goes beyond just the recognition and appreciation for DSPs, by sharing specific actions and cutting-edge approaches to improve the human services field and elevate the status of DSPs. 'From Promise To Progress' boasts breakout sessions, panels, keynotes, and the prestigious John F. Kennedy Jr. Award.
Virtual Event Recordings
You can browse the full schedule of all sessions that were presented during the 2021 NADSP Virtual Event by scrolling below. The session recordings are also available by clicking the 'Watch Now' button.
If you have any questions about the session recordings, please contact Nicole Dama.
The Recording Is Not Available For This Session
Invaluable Screening 
Join the NADSP for a live viewing of the acclaimed documentary Invaluable: The Unrecognized Profession of Direct Support. Invaluable is a documentary film exploring the underappreciated and underfunded work of direct support professionals (DSPs), the people who support individuals with intellectual and developmental disabilities in living full lives as members of their communities. Through stories and interviews with DSPs, family members, advocates, and people with disabilities from across the country, the film honors the complexity of the work and the immense value it provides to individuals receiving support. And it asks us to take action now in strengthening the DSP workforce before the system collapses.
John F. Kennedy Jr. Award for Direct Support Workforce Advocacy & Leadership Presentation and Welcome
Alison Barkoff, Acting Administrator and Assistant Secretary for Aging at the Administration for Community Living
Jeanne Farr, CEO, NADD
Joe Macbeth, President and CEO, NADSP
The John F. Kennedy Jr. Award for Direct Support Workforce Advocacy & Leadership Presentation and Welcome will feature a message from Alison Barkoff, Acting Administrator and Assistant Secretary for Aging at the Administration for Community Living.  Following that message, the John F. Kennedy Jr. Award Workforce Advocacy & Leadership will be presented. This award recognizes an individual who has demonstrated a distinguished career of excellence and leadership in support of NADSP's mission to enhance the quality of support provided to people with disabilities through the provision of products, services, and certifications which elevate the status of direct support workers, improve practice standards, promote systems reform and, most importantly, advance the knowledge, skills & values of our dedicated workforce.
Providing Direct Support During the COVID-19 Pandemic: National Survey Review
Amy Hewitt, PhD.  Director, Institute on Community Integration at The University of Minnesota
Since early in 2020, the National Alliance for Direct Support Professionals (NADSP) in partnership with the Institute on Community Integration at the University of Minnesota conducted three national surveys of Direct Support Professionals that has yielded important results and has captured the voices of tens of thousands of DSPs – the most DSPs to respond to formal surveys in history. Dr. Hewitt will share some of the most significant results from the three surveys and offer her recommendations on how to use this data to impact public policy and advocate for meaningful change.
Advocacy in Storytelling: Storytelling With Comics!
Marek Bennett, NH-based Cartoonist, Musician, and Educator 
Josh Smith, Executive Director, Green Mountain Support Services
Communicate your story, or your organization's story with a powerful universal art form – comics! Join Josh and Marek for a discussion on Do-It-Yourself comics-making and how it can be a powerful tool for advocacy and promoting the stories of organizations and people receiving services.
Keynote: Are we ready to be the Change we want to be?
Dr. Monica McCall, President & CEO, Creative Options, Inc.
Direct Support Professionals, you have the power of transformation that can change the world of supporting others. It is time to be fired up! Time to stand up and prepare for changes to come. Are you prepared? The world is viewing the role of the DSP in a post- pandemic era with greater significance, recognition, strength, and necessity than any other frontline position worker in the world. Now is the time to alter the way others see the power of the DSP, unleashing the strength, credibility, and enhancements in the industry.
Come join Dr. Monica Y. McCall, as she explores and shares a vision and shared promise for," The Transformative Direct Support Professional. Preparing for the future and the changes that create and develops the role of strong, enthusiastic, and strong DSP workforce of the future. The value of the work you do is being honored in upcoming plans- community and legislative presence and these efforts will transform the role forever. Join as we discuss the journey and prepare for this star moment in history.
Are you ready? How do you ensure your place in the future of a credentialed DSP? How do you inspire the change you want to see in your role as a DSP?
​Connecting The Dots: People Receiving Services, Staffing Decisions, & DSP Turnover
Doris Hayes, Quality Enhancement Specialist, CQL
Carli Friedman, PH.D., Director of Research, CQL
When you show up for a job interview, who is in the room? When you participate in professional training, who is leading it? When it's time for your annual evaluation, who is providing that feedback? While the positive impact of DSPs on those receiving services is clear, it's far less clear why people with disabilities are not always playing an active role in staffing decisions and development. In this breakout session, we have thought-provoking data that connects the dots between people receiving services, their support needs, organizational hiring and training practices, and ultimately DSP turnover. Then, we lay out specific strategies to ensure that people receiving services are involved in the recruitment, hiring, onboarding, assignment, ongoing training, and performance reviews of direct support professionals.
Meet the NADSP DSP Advisory Council: How Can Direct Support Professionals Remain Hopeful in Challenging Times
This session will introduce participants to the NADSP Advisory Committee. This committee is comprised of direct support professionals from all over North America.  You will get a chance to meet them and hear specifically how they continue to be energized and committed to this work.  It is no secret that the past 18 months has been challenging in so many ways.  This facilitated discussion will focus on the positive and hopeful.
Keynote: What we've learned through this Pandemic – What comes next!
John Dickerson, CEO/Founder, myQuillo
We have all been through an intense trauma together this past year.  Many have lost loved ones and friends. Through it all we have learned a great deal about ourselves, those we support and the systems that are built around them.  How do we take what we have learned; make the system changes, use technology better, focus on relationships and people in ways we would not have before COVID?  Join in a session that will explore together, share ideas, and help you start your own plan for what comes NEXT!
Always Fresh, Always Relevant, Frontline Initiative
Julie Dahlof Kramme, Researcher, Research and Training Center on Community Living, University of Minnesota
Chet Tschetter, Education Specialist, Institute on Community Integration Institute on Community Integration, University of Minnesota
Frontline Initiative has been the exclusive newsletter for direct support professionals for over twenty years. Each issue features articles written about topics that DSPs tell us are important to their professional development. During this session you'll have a chance to learn more about Frontline Initiative and how you can contribute to quality direct support practice across the country. We want to hear from you! We want to know what topics and issues are at the front of your mind in your practice. What are the challenges or issues you face in your work? What do you want to know more about? How would you like to be involved? What can you share with other DSPs? What stories do you have to tell? Why is this work important to you? Finally, we will share with you some easy steps for writing an article, a story, or to share a resource in Frontline Initiative. This session is your chance to share and interact!
Let's Talk Dave: Remembering Dave Hingsburger
Joe Jobes, Co-Founder, Diverse City Press
Yona Lusky, Director, Azrieli Adult Neurodevelopmental Centre, Senior Scientist, Adult Neurodevelopment and Geriatric Psychiatry Division, and Director, Health Care Access Research and Developmental Disabilities (H-CARDD) Program
Roger Ramsukh, Behavior Specialist VITA Community Services
John Raffaele, Director of Educational Services, NADSP
Joseph M. Macbeth, President and CEO, NADSP
Following years of our "Let's Talk with Dave" series, where we featured Dave Hingsburger we would like to take this time to remember and honor our friend and colleague. Please join us as we celebrate Dave by sharing memories and stories with a focus on his fierce advocacy, humanitarianism, and lessons he taught us all.
Direct Support Professionals & Public Policy: Educate, Advocate and Acknowledge
Joseph M. Macbeth, President and CEO, NADSP
Dr. Serena Lowe, Founder & Principal, ANERES Strategies
After years of inadequate strategies, the direct support workforce has been in "crisis" for decades and the intellectual and developmental disabilities service industry is facing unprecedented turnover and challenges in finding and keeping direct support professionals. These issues have been front and center in public policy discussions at the very highest levels of government and one thing is painfully obvious – direct support professionals themselves must be present and active in these discussions. This session will review how the NADSP has engaged in policy efforts and unveil several new approaches to bring our DSPs "to the table" so we can begin to build a true profession and fulfill the promises to people with disabilities that were made by important civil rights court decisions and legislation. Participants will also learn about other ways they can get more directly involved in advocating for their rights as DSPs and for the individuals with disabilities that they support through NADSP's federal advocacy efforts
Become A Sponsor
Just like our last virtual event in 2020, 'From Promise To Progress' offers innovative and targeted options for sponsors and supporters to engage with attendees and highlight organizational initiatives, products, resources, and more. By aligning your brand with the very best in human services and demonstrating your commitment to this essential workforce, you are positioning yourself alongside leading experts in the field and showing your appreciation for the DSPs that are making a difference in people's lives.
From logo placement, video messages, and audio mentions, to banner advertisements, social media promotion, and attendee follow-up (just to list a few) our virtual event sponsors and supporters will be able to reach attendees in ways that are not even possible during a traditional, in-person conference.
Sponsor The 2021 Virtual Event
Please browse the Sponsorship Prospectus – but act fast – we sold out our sponsorship options very quickly last year. Don't miss an unique opportunity to reach hundreds upon hundreds of professionals in the human services field!
Current Sponsors
The NADSP and the Research and Training Center on Community Living from the Institute on Community Integration at the University of Minnesota are grateful for the support from our community members. Thank you to our sponsors for showcasing their support and good will to DSPs.
John F. Kennedy Jr. Awards Sponsor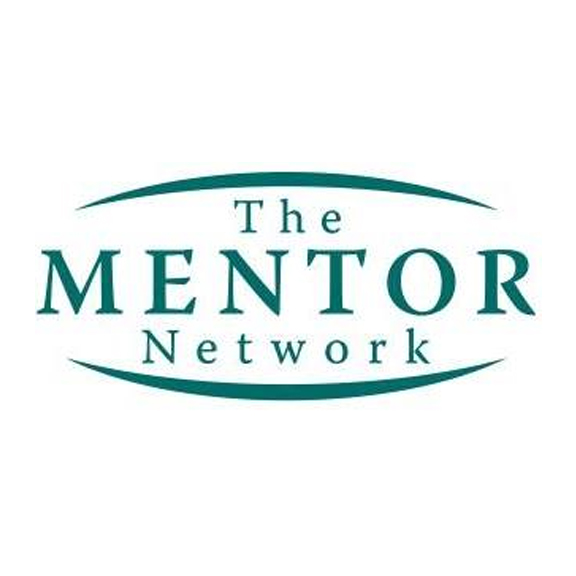 The Mentor Network
The MENTOR Network is a premier provider of home and community-based health care, inspired by our core values of respect, integrity, inclusion and growth. We offer adults, children, and their families innovative, quality services and individualized supports that lead to growth and independence, regardless of the physical, intellectual or behavioral challenges people face. We are proud to support more than 35,000 individuals across nearly 40 states with the care and support needed to thrive.