2023 NADSP Advocacy Symposium
Amplifying The Voices Of DSPs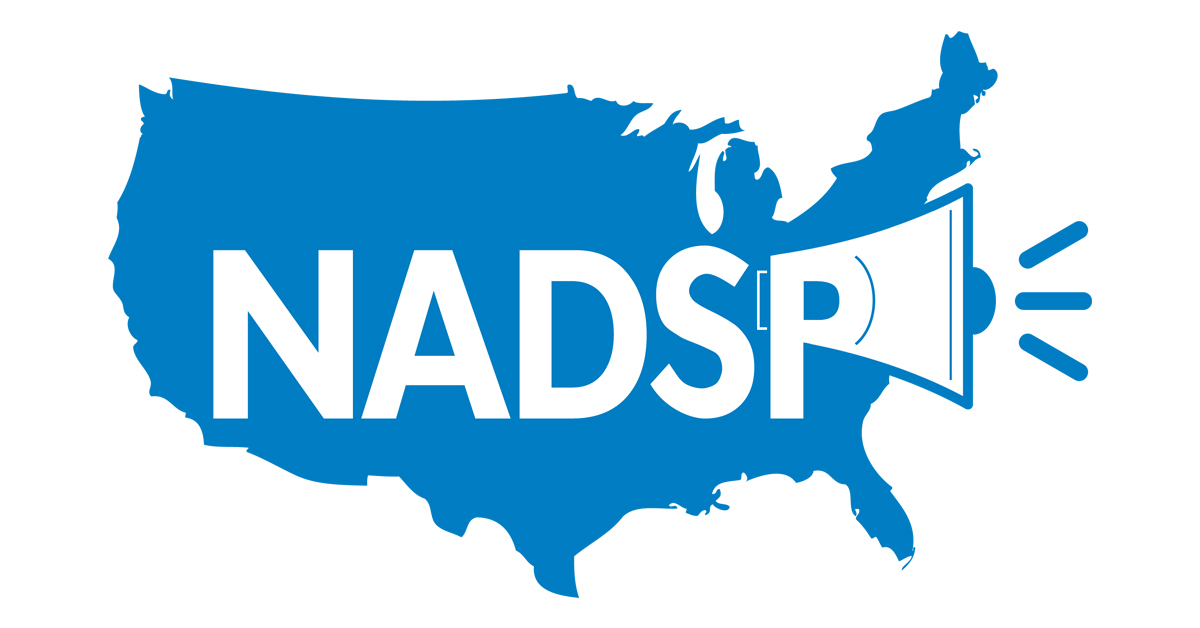 About the Event
On May 3rd and 4th, the National Alliance for Direct Support Professionals (NADSP) will embark on its second national advocacy event to bring the direct support professional (DSP) perspective to the forefront of Congress and the Administration during a time of unprecedented workforce challenges. Hardships from the pandemic and recent legislation has provided new insights and opportunities for the direct support workforce that supports people with disabilities. The NADSP recognizes the previous absence and critical importance of lifting the voices of DSPs to federal policy-makers, so that public policy can be informed by the people who are on the front-lines of supporting people with disabilities to live, work and thrive in the community. On April 13th 2023, the NADSP will provide DSPs from all across the country comprehensive advocacy virtual training. This will lead up to the 1.5-day virtual event in May that will culminate with virtual meetings with Congressional leaders and staff to educate and advocate on NADSP's public policy priorities for 2023.
Advocacy Symposium and Legislative Meetings Training
Wednesday, May 3, 2023, 2:00 p.m – 4:30 pm ET
State Team Meetings will extend beyond 4:30 pm ET
Legislative Meetings
Thursday, May 4th, 2023, Time will vary by state and district
After registering, all individuals will receive a confirmation that they have registered. Final meeting times will be shared on March 4th from Soapbox Consulting. Please note that your meeting time will depend on your Zip Code and Congressional District.
Event Sponsors 
Our sponsors share our values and our commitment to promoting a robust and highly qualified direct support workforce.
NADSP's 2023 Policy Priorities
Establish a Standard Occupational Classification (SOC) for direct support professionals within the Bureau of Labor Statistics. (BLS).
Assure effective implementation of workforce development initiatives authorized through legislation that leads to wages commensurate with the level of responsibility and the complexity of this work, as well as career ladder opportunities that lead to professional growth.
Attendee Expectations
Attendance is free and mandatory on May 3rd in order to participate in meetings in on May 4th. On Tuesday, May 3rd, part of the programming will include the messaging for the legislative meetings as well as training on materials and state team coordination.
Participants are expected to attend every meeting on their May 4th schedule as part of their subgroup team. These meetings are not optional.
Please set aside an entire business day up to 6:00 PM in your time zone on May 4th. The best times to secure Member-level meetings are early in the morning and late in the afternoon. We are at the mercy of individual legislative offices as to the time they offer. We wouldn't want you to miss out on these opportunities.
Participants should not attend meetings not on their schedules. Offices on the House side are small and staff can become frustrated with large groups and unexpected participants.
Everyone will go to both House and Senate meetings, but not everyone will have an opportunity to speak. NADSP has designated state leaders who will organize 3-5 of participants to speak in each meeting.
The NADSP Code of Ethics is the basis for everything we do. All conduct in meetings should remain professional and on message as directed by State Team Leads.

Integrity and Responsibility: As a direct support professionals, I will support the mission and vitality of my profession to assist people in leading self-directed lives and to foster a spirit of partnership with the people I support, other professionals, and the community.
Register for the 2023 NADSP Advocacy Symposium
Click the link below to register via JotForms. Once completed, a confirmation email will be sent to all attendees.
2:00 PM – 2:10 PM ET  Welcome 
Speakers: Senator Maggie Hassan (D-NH) (invited), Chester Finn, NADSP Board Chair, Special Assistant, NYS Office for People With Developmental Disabilities
Kick off the 2023 Advocacy Symposium with NADSP's Board Chair, Chester Finn and invited guest, U.S Senator Maggie Hassan (D-NH).
2:10 PM – 3:10 PM ET  Expert Panel Discussion- The Direct Support Workforce and Public Policy: Building Quality at the Point of Interaction
 Moderator: Joseph M. Macbeth, National Alliance for Direct Support Professionals
Panelists: Lydia Dawson, Director of Policy, Regulatory & Legal Analysis, ANCOR,Michael Gamel-McCormick, Disability Policy Director for Senator Bob Casey, Chair of the Special Committee on Aging; Amy Hewitt, PhD Director, Institute on Community Integration at The University of Minnesota, Mary Sowers, Executive Director, National Association of State Directors of Developmental Disabilities Services, BJ Stasio, Self Advocate and Activist and Nick Smith, Direct Support Professional, SPIN
After decades of inaction, high turnover rates and a lack of professional recognition, the direct support workforce has experienced new and unforeseen hardships caused by the COVID-19 pandemic. Despite these challenges, people with disabilities continue to live, work and thrive in their communities due to the extraordinary efforts of direct support professionals across the country. After years of advocacy, recent attention and legislation have provided new opportunities for states to invest in better wages, training and career ladder programs for our workforce. This panel of experts will share some of the possibilities that can come from effective policy changes which address some of the long-standing issues surrounding the "caregiving economy" and the direct support workforce.
3:15 PM – 3:30 PM ET  NADSP's Message to Congress
Presenters: Nicole Jorwic, Chief of Advocacy and Campaigns, Caring Across Generations, Joseph Macbeth, President and CEO, National Alliance for Direct Support Professionals
This briefing will highlight NADSP's national initiatives that are the spotlight for this year's ask of Congress. Investments in Medicaid Home and Community Based Services: Past, Present Fight and Future goals. Though Medicaid has different names in many states, it is the system that provides access to home and community-based services AND the system that determines and pays the wages of direct support professionals. This over forty- year old system needs updates and investments, as the pandemic exposed the cracks in this system. Attendees will learn the basics of Medicaid, about the current legislation that coulf improve wages and how you can advocate at the state and federal level. Additionally,  attendees will learn the most important facts about effective implementation of workforce development initiatives authorized through legislation and about how to secure a Standard Occupational Classification (SOC) that would yield necessary data that will lead to professionalization of the field and help with recruitment and retention. This session will highlight the importance of these messages effectively being communicated in legislative meetings.
3:45 PM – 4:30 PM ET – Hook, Line and Sinker: Soapbox Interactive Legislative Hill Meeting Preparation with Christopher Kush
Presenter: Christopher Kush, MPP, CEO, Soapbox Consulting , 
In this 60 minute presentation, Christopher Kush will prepare advocates to get energized, motivated and ready for action. Whether you are a seasoned veteran, or this is your first advocacy day, this session will prepare you for a would be Capitol Hill day. Christopher will provide an overview of logistics of the advocacy day (March 10) with instructions on how to use Soapbox Mobile to access all materials. In the "Hook, Line and Sinker," Chris will go over the three vital parts of an effective legislative meeting. Advocates will end this meeting understanding the common pitfalls of a meeting and how to avoid them along with how to localize and personalize your meeting.
Soapbox Mobile Tool®
The Soapbox Mobile Tool® provides a real-time, custom experience for each advocate that allows them to see accurate schedules before they come to town, and then provides push notifications, easy feedback, and other tools to support your efforts.
The Soapbox Mobile Tool® is not an app; there is nothing to download or install. A cloud-based tool accessible from any web-connected device, the Soapbox Mobile Tool® can usually be incorporated seamlessly with other conference apps.
Legislative Meetings – Thursday, May 4, 2023
After registering, all individuals will receive a confirmation note and a separate email with a zoom link. Meeting details will arrive from Soapbox Consulting by Friday, April 28, 2023.  Please note that your meeting time will depend on your Zip Code and Congressional District.
Advocacy Symposium Recordings
You can browse the last year's sessions that were presented during the 2022 NADSP Advocacy Symposium by clicking here. The session recordings are also available by clicking the 'Watch Now' button.
If you have any questions about the session recordings, please contact Nicole Dama.