Moving Mountains Award Winners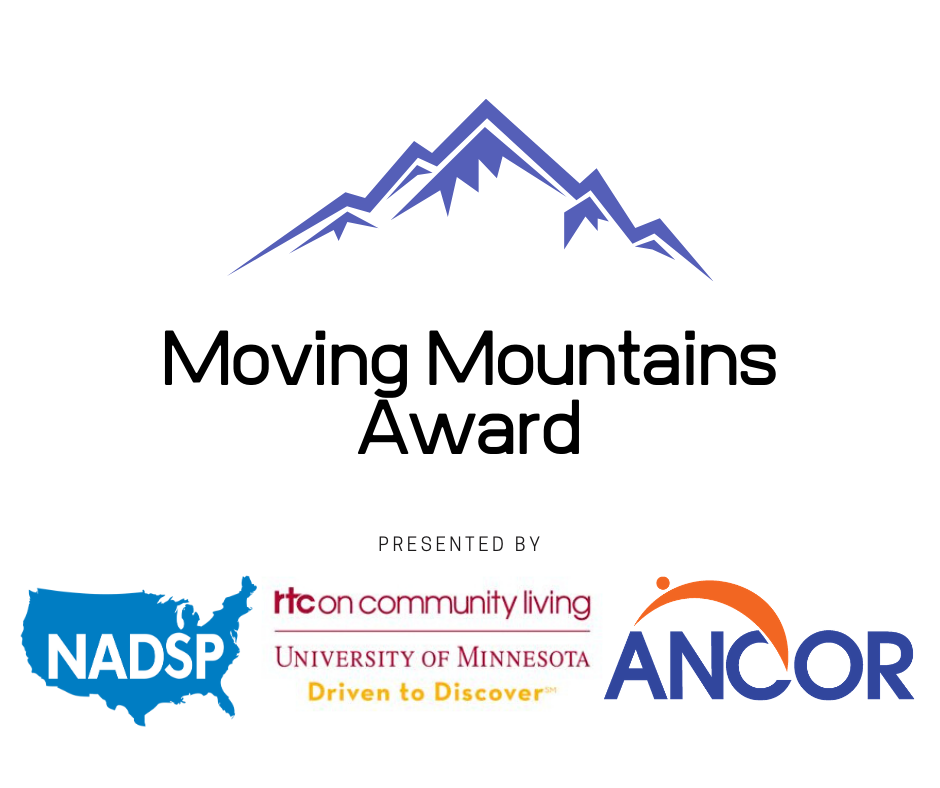 2022 Winners
Core Services of Northeastern Tennessee
Core Services of Northeast Tennessee is a private non-profit organization and offers a range of support, including supported living, employment, respite, personal assistance, funds management, nursing, and more. In 2016, the relatively new leadership team of Core Services saw the HCBS Settings Rule as an opportunity to move well beyond meeting the rules of minimum compliance. Looking for available road maps, they took advantage of several opportunities, including enrolling in the Tennessee Department of Intellectual and Developmental Disabilities (TN DIDD) "Becoming a Person-Centered Organization" initiative. The organization also achieved The Council on Quality and Leadership's Person-Centered Excellence Accreditation. This was the start of Core Services' transformation to a true person-centered model, with focus shifting from developing good services to creating great lives.
The success of Core Services' transformation has been dramatic. The agency went from 40% facility-based services to 100% community-based services and from no persons supported being employed to 43% being competitively employed. Their vacancy rate among direct support professionals (DSPs) dropped from 13% to 6% and turnover rate from 60% to 35%. During this time, DSP wages increased from an average of $11.05 to $15.29, and benefits including a 401(k) savings plan and life insurance were added. These are just a few of the accomplishments of Core Services' transformation.
The Arc Mid-Hudson
The Arc Mid-Hudson, a chapter of The Arc New York, has always been committed to supporting DSPs through educational and professional opportunities. Supported by a grant from the New York State Department of Labor grant, they launched the DSP Success Coach Program in 2021. Through this program, three seasoned DSP success coaches provide 1:1, on-the-job training at each new DSP's worksite during their regularly scheduled work shifts. This removes the burden of DSPs having to commute and adjust their schedules for training and replaces hypothetical, academic learning with real-life, hands-on learning. DSP success coaches model services that are individualized and community based.
The DSP Success Coach Program was developed in response to orientation feedback surveys, which consistently reflected DSPs feeling overwhelmed by training demands and a desire for more practical hands-on learning. This program has resulted in a 10% decrease in new hires leaving within the first year. Nearly three quarters of the 204 new DSPs who received success coaching are still employed, and 2% have been promoted to higher-level DSP or frontline supervisor positions.
2021 Winners
The Regional Centers for Workforce Transformation, Albany, New York
The Regional Centers for Workforce Transformation (RCWT) is a grassroots collaboration of provider organizations, self-advocates, and other stakeholders dedicated to fostering workforce competency, capacity, and professionalism for Direct Support Professionals (DSPs).  Its creation followed a series of articles published in 2011-2012 by The New York Times highlighting instances of abuse and neglect in New York's field of intellectual and developmental disabilities (I/DD).  The RCWT, initially funded through a grant from NYS Developmental Disabilities Planning Council, was created to establish the framework to support that change. Throughout the RCWT's expansion of influence, the vision has remained constant—a stable DSP workforce that is ethical and competent—and the mission has also been steadfastly consistent: a synchronized effort to build DSP capacity for knowledge, skills and values in order to realize the principal goal of improving the quality of life for people with developmental disabilities. The goal of improving the lives of people with I/DD is founded on building the capacity, competency, and professionalism of the workforce through the collaborative network of RCWT workforce champions and multiple stakeholders.  RCWT does that through a multi-faceted approach, offering trainings, technical assistance to providers, DSP and Frontline Supervisor (FLS) conferences and presentations, DSP Open Mic sessions, Self-Advocacy Group Meetings and side by side learning sessions for self-advocates and DSPs on the DSP Competencies.
RCWT is a network of 17 local workforce champions, referred to as regional "Leads." In addition to the leadership and staff support of the NY Alliance for Inclusion and Innovation and funding and support from the New York State Office for People with Developmental Disabilities (OPWDD) the participants include DSPs, supervisors, staff development professionals, provider agency leaders, self-advocates, educational partners at the secondary and post-secondary levels, and diversity, equity and inclusion professionals.
RCM of Washington, Washington, DC,  "The DSP Academy"
RCM of Washington has provided services and supports in the District of Columbia since 1998 to people with intellectual and/or developmental disabilities with a positive pathway toward Revitalizing Community Membership empowering independence and integration to their community. Their unique approach provides those they support with the critical services they need to set attainable goals and develop action plans toward maintaining stable, safe and affordable housing, gaining sustainable employment and living the lives they want, within their community. The RCM of Washington DSP Academy is an eight-week innovative training program that certifies people with and without disabilities to work as DSPs in Washington, DC.
The DSP Academy, a customized vocational training program, creates opportunities at the crossroads of two critical issues facing the field: the workforce shortage of DSPs and the high unemployment rates for people with disabilities.  By having people with disabilities supporting others with disabilities, the DSP Academy creates high expectations that people with disabilities can and should work. Currently, the DSP Academy is targeting both transitional youth and adult populations and has run six successful cohorts, including one bilingual cohort for Spanish speakers. The RCM of Washington DSP Academy is an eight-week innovative training program that certifies people with and without disabilities to work as DSPs in Washington, DC. The goals of the DSP Academy include: certifying highly trained DSPs, with and without disabilities, to the workforce, each time the DSP Academy is offered; the establishment of peer to peer DSP supports, by training DSPs with disabilities, including intellectual and developmental disabilities, to become DSPs; and reducing the likelihood of staff turnover by offering on the job experiences so that DSP Academy participants understand the DSP experience. Upon completion of the DSP Academy, RCM of Washington Academy facilitators provide supports in the area of discovery, intentional matching, job searching, support with resume development and filling out job applications and employer and provider connections through the DC Coalition of Service Providers. To learn more about DSP Academy, click here.
2020 Winners
Becoming Independent, Santa Rosa, CA: "The Discovery Project" . Becoming Independent (BI) is one of California's most innovative and respected agencies serving adults with intellectual and developmental disabilities (IDD) including autism, cerebral palsy, Down syndrome, and epilepsy. The agency was founded 53 years ago by a small group of dedicated parents who shared a belief that there should be an alternative to institutionalization for their adult children with disabilities. Over the past year, Becoming Independent has offered 1:1 services in its day settings via a new program called the Discovery Project. This is allowing the organization to re-imagine how they provide services and assist people who have been in traditional day programs for many years. The process involves two phases; each includes the person, their family, as the individual desires, and a support circle of their choosing. Becoming Independent's Discovery Coaches (Direct Support Professionals) are trained to see beneath the first thing people say and listen instead for the unspoken. The direct support professionals encourage those they support to look past the current service offerings to imagine what interests and dreams they hold. The exercises and activities in the 1:1 coaching sessions uncover and build on the strengths, gifts, talents, skills, and contributions of the individual and those who know and care about the individual. Click here to learn more about the services offered by Becoming Independent.
Family Residences and Essential Enterprises, Inc. (FREE), Old Bethpage, NY: "The Center for Learning and Professional Development (CLPD)". Family Residences and Essential Enterprises, Inc. (FREE) created the Center for Learning and Professional Development (CLPD) as the means to fulfill its commitment to realigning the agency as a "learning organization". As the "hub" for professional development this remains one of FREE's strategic goals– ensuring the ongoing and consistent development of its workforce. Supporting the educational and professional developmental goals of DSPs, and all team members, increases engagement and commitment. The CLPD offers a robust array of workforce development training initiatives to enhance learning and to help team members advance their careers. The CLPD provides DSPs with numerous opportunities to advance their careers enabling them to improve the quality of support they provide to individuals supported by FREE. By re-engineering FREE into a learning organization, the agency has been able to engage their DSPs and match their interests and skills with the goals of the individuals supported. With the dedication and support of the DSPs, the individuals continue to stretch the boundaries of what is possible for adults with developmental disabilities. Click here to learn more about FREE.
GoodLife Innovations, Inc., Lenexa, KS: "Neighborhood Network with iLink". GoodLife and its KU partners believe that people with intellectual and developmental disabilities (I/DD) should not need to live in group homes to affordably get the help they need just because their needs are higher, intermittent, or unpredictable. Nor should they need to go to clinics to receive professional services simply because that is the most time-efficient strategy for therapists. Instead, people should be able to get professional, caring, and consistent support in their own home exactly when help is needed. No great paradigm shift happens overnight, which is certainly the case for GoodLife's Neighborhood Network and iLink Support Technologies. Over the last 20 years, GoodLife Innovations has quietly built, refined, and packaged interrelated components of a neighborhood service model that is leveraged by advanced technologies. It provides in-home and remote life coaching, best-practice care, and professional services at the moment of need. The approach delivers reliable, affordable care of the highest quality provided by a team of talented iCoaches, Professional Neighbors, and DSPs working in partnership with an interdisciplinary team of professionals who provide remote support. A team of DSPs that might include Professional Neighbors, Professional Families, Professional Roommates, and shift-based DSPs, collectively support the needs of a neighborhood. GoodLife's Professional Roommate model is a relatively new staffing approach. Professional Roommates are DSPs who work 24-hour shifts, living with one or two roommates with I/DD. Professional Families live in homes that are next to the home they support, while Professional Neighbors live in homes/apartments that are in proximity to multiple homes of people they support. Click here to learn more about GoodLife Innovations' Neighborhood Network with iLink. 
2019 Winners
St. Coletta's Of Wisconsin was recognized for its  innovative recruitment and retention practices through an initiative called "Project Moonshot". Moonshot, which was developed in April 2016 as a solution to an ongoing staffing issues with retention. This initiative includes competency based job evaluation, promotional and career advancement opportunities, and competitive wages and benefits.  
2016 and 2017 Winners
Penn-Mar Human Services was recognized for its Career Ladder Program that improves individual outcomes and staff retention by developing a credentialed workforce with professional standards. Under the premise that elevating the direct support profession by expanding the knowledge and thinking of the staff will result in improved lives of the individuals they support, their families, and the staff providing it. Ultimately, Penn-Mar is improving the perception of professional opportunities in the industry, which expands the labor pool as the need for direct support professionals remains a national crisis. Penn-Mar is advancing this goal through a commitment of both time and resources to support direct support professionals interested in pursuing certification. The commitment for credentialing staff is prevalent throughout the organization at all levels of management and leadership through the Board of Directors.
Black Hills Works has made clear that all levels of their organization see the role of the direct support professional as the most "important" position in the organization. This has been achieved through an ongoing relationship with the NADSP and The Research and Training on Community Living at the University of Minnesota. Through using the NADSP Competencies, the NADSP Code of Ethics and a vast assortment of validated resources, Black Hills Works has created a robust direct support career ladder. Furthermore, their Frontline Leadership Development Program supports a management structure that focuses on direct support development and the vitality of leadership with the ultimate focus being direct support education and life-long learning.
Life's WORC . Through a holistic and comprehensive "Person-Centered Living Enhancements" initiative, Life's WORC was recognized for the development of all their staff in what they call, a "customer service" trajectory. The "customers" of which Life's WORC is speaking include the people they support as well as the hundreds of direct support professionals they employ. Financial incentives, career ladder initiatives, and professional development opportunities for all staff permeate the culture of this organization. As they continue to measure direct support retention, they are continuing to see lasting tenure and high employee satisfaction across their workforce.
The Arc Northern Chesapeake Region's Training and Development Program is multi-faceted and focuses on orientation, ongoing in-service learning that is values driven and leadership development. The Arc of Northern Chesapeake Region has invested in NADSP curricula for several years and they have been pioneers in the use of NADSP's Informed Decision Making and Frontline Supervisor Train-the-Trainer Curricula. Along with financial incentives and career ladders and lattices, they have developed and highly educational culture and learning organization for direct support professionals and frontline managers.
The Ohio Alliance of Direct Support Professionals (OADSP) was recognized for its "Community Connections Career Partnership (C3PO). This is a program that combines high school classroom education (through OADSP's Credentialing Program-DSPaths) and a one year long internship program, culminating with the students developing a portfolio that demonstrates their ability in a variety of direct support competency areas, and earning a credential upon the successful completion of the course. Upon graduation, the expectation is that these students will find positions as direct support professionals and continue working in the I/DD field.
2015 Winners
The Arc of Orange in Newburgh, NY has utilized the College of Direct Support, NADSP Competencies, NADSP Code of Ethics and finally the NADSP Credentialing system in creating a robust career advancement program. They have created a career ladder for direct support professionals to remain in direct support roles while earning extended generous base salary increases commensurate with achievement of NADSP DSP C-1, 2 and 3 Levels of Certification. The primary intention behind this initiative is to allow direct support professionals to stay in direct care positions and not necessarily climb to supervisory or positions of advancement that are not in direct interaction with the people they support. Several organizations from around the United States have reviewed the financial and programmatic structure that The Arc of Orange has created and they have emulated what this organization has done for direct support professionals.
NYC Training Collaborative (United Cerebral Palsy of NYC, Heartshare Human Services, and Services for the Underserved) for their ground-breaking work in developing a nationally accredited credential  program for frontline supervisors. The purpose of this credential is to better assist direct support professionals to embrace the Code of Ethics and excel at the demonstrating Core Competencies on the job.
Center for Disability Services in Albany, New York for their proactive work in teaching direct support professionals the Code of Ethics and Core Competencies through the creation of instructional videos and manuals, two of which are posted on the New York State OPWDD's website and are being used statewide for the same instructional purposes.
2014 Winners
The Resource Center, Jamestown NY P.A.C.T – People Achieving Certification Together is a cohort program developed to assist direct support professionals in the process of obtaining DSP-C Level certification through the National Alliance for Direct Support Professionals.
Monarch Inc. in Albemarle, NC was recognized for implementing a variety of direct support professional initiatives that improved recognition, knowledge, skills and values across the entire organization. Monarch's direct support workforce provide support to thousands of individuals every year within their home and community and they are uniformly considered to be the most important resource of the agency, second only to the people they support.
2013 Award Winners
Anderson Center for Autism (ACA) offers all agency staff professional development opportunities through the ACA Career Ladder Learn and Earn Program. ACA created the Career Ladder Learn and Earn Program to support their mission and promise of serving people with ASD and developmental disabilities with the highest level of respect, integrity and competence available. It is ACA's philosophy that a highly trained and educated workforce will have the ability to provide a higher quality of care, create stronger and more meaningful loyal relationships, and provide an environment that is conducive to learning. Through the ACA Career Ladder Learn and Earn Program, DSPs are encouraged, supported, and compensated for increasing their skills and developing a broad knowledge base necessary to perform at the highest possible proficiency level.
2012 Award Winners
ARC Broward Learning Institute employs over 300 Direct Support Professionals (DSPs) who support over 1,200 children and adults through its 19 programs and 3 social enterprises. ARC Broward Learning Institute aims to address all five of the NADSP goals by providing DSPs with quality, affordable, and professional development training designed to enhance care and promote a better quality of life for those they serve. You can find more at www.arcbroward.com
The East Bay Innovations/SEIU Labor/Management Training and Career Ladder Development Committee has demonstrated significant progress towards their goal of improving the quality of support provided to people with Intellectual/Developmental Disabilities served by EBI. Some of their important initiatives include providing training to DSPs that is designed to improve the quality of their work and increase their confidence and job satisfaction and qualify them for promotion, and ultimately reduce turnover by providing advanced training and career opportunities. You can learn more at www.eastbayinnovations.org.
2011 Award Winners
NADSP/College of Direct Support Credentialing Project through Mat-Su Services for Children and Adults in Wasilla, Alaska: Mat-Su Services for Children and Adults has actively promoted the NADSP Credentialing Program by encouraging and supporting their employees to become first DSP-Registered and next DSP-Certified. By offering employees workshops and one-to-one mentoring on portfolio work sample development, access to College of Direct Support coursework, and opportunities to review key concepts together, Mat-Su has become a leader in successful applications for the competency-based DSP-Certified credential at NADSP.
Pathways to Excellence (P2E) Program through Ability Beyond Disability in Bethel, Connecticut: Ability Beyond Disability's Pathways to Excellence (P2E) program offers a clear path from entry level to professional role, with increased compensation to match. The program recognizes that many direct support professionals (DSPs) want to find a way to further their careers, but not necessarily in a management or supervisory capacity. Through the P2E program, employees can advance either vertically (into leadership roles) or horizontally (continuing to provide direct support while being recognized for advancing skills and knowledge). Since beginning the program in 2008, Ability Beyond Disability has decreased turnover of DSPs by 10%, with 97% of the 145 P2E program participants still with the company. In addition, P2E is recognized by Post University in Waterbury, Connecticut, awarding 12 elective credits to P2E graduates.
2010 Award Winners
Life and Career Model Program through the Arc of Delaware County in Walton, New York: For their comprehensive Life and Career Model that focuses on professional development through a highly specified career ladder designed to promote meaningful participation by people with disabilities in their communities. (more information…)
Every Day Heroes/Master Worker Program through the Adirondack Arc in Tupper Lake, New York: For their achievements in the training and career development of direct support professionals (DSPs) through the Master Worker program. (more information…)
2009 Award Winners
The Community Living Program (CLP) of Catholic Community Services of Southern Arizona: For their innovative Starfish Program, which has been instrumental in building morale, rewarding achievement, and creating a community of cooperation among direct support professionals in the organization. (more information…)
The South Dakota Association of Community Based Services (SDACBS): For their Direct Support Workforce: Building a Collaborative Strategy for Recruitment, Retention, Training, and Utilization initiative which has been transformative in the improvement of direct support workforce outcomes and practices statewide. (more information…)
2008 Award Winners.
2008 Award Winners
Miami Cerebral Palsy Residential Services, Inc.: For commitment to the professional development of a multicultural workforce, using the College of Direct Support resulting in NADSP credential (more information…)
The New York State Association of Community and Residential Agencies: For excellence in supporting DSP professionalism through statewide initiatives to improve wages, benefits, educational and training opportunities, retention, performance and career ladders (more information…)
2007 Award Winners
Support Providing Employees Association of Kentucky (SPEAK): For excellence in pre-service orientation, mentoring of new hires, in-service training, and promoting DSP recognition and professionalism. (more information…)
Alaska Alliance for Direct Service Careers: For excellence in developing ongoing statewide initiatives that build direct support professional careers. (more information…)
2005-2006 Award Winners
Ark Regional Services: For excellence in competency-based training for DSPs (more information…)
Community Supports for People with Disabilities Program, South Central College: For excellence in promoting DSP career development through credit-bearing coursework (more information…)
Kansans Mobilizing for Workforce Change: For excellence in creating and sustaining meaningful direct support workforce change at the systems level (more information…)
The Arc Northern Chesapeake Region Stars Program: For excellence in creating a career track to raise the value and status of DSPs (more information…)
2004 Award Winners
PATHS (Ohio Alliance of Direct Support Professionals): For Excellence in Direct Support Professional Career Development through Apprenticeship and Credentialing (more information…)
Everyday Heroes Leadership Initiative (OMRDD), New York: For Excellence in Building Direct Support Professional Leadership for Community Inclusion (more information…)
Direct Support Professionals Association of Tennessee (D-SPAT): For Excellence in Building a Statewide Direct Support Professional Association that Promotes Networking, Training, and Recognition Programs (more information…)
2003 Award Winners
ELM HOMES, Minnesota: For Excellence in Redesigning Human Resource Practices for Direct Support Professionals (more information…)
MID-HUDSON COALITION, INC., New York: For Excellence in Direct Support Professional Education, Training and Development (more information…)
SPIN, Pennsylvania: For Excellence in Direct Support Professional Training, Leadership Development and Career Development (more information…)
2002 Award Winners
Dakota Communities, Inc., Minnesota: For Excellence in Direct Support Professional Training for their Advocating Continuing Education Program. (more information…)
Vinfen, Massachusetts: For Excellence in creating, developing, and nurturing Self-Managed Work Teams (SMTs) with direct support professionals as team leaders and members. (more information…)
OHI, Maine: For Excellence in supporting direct support professionals