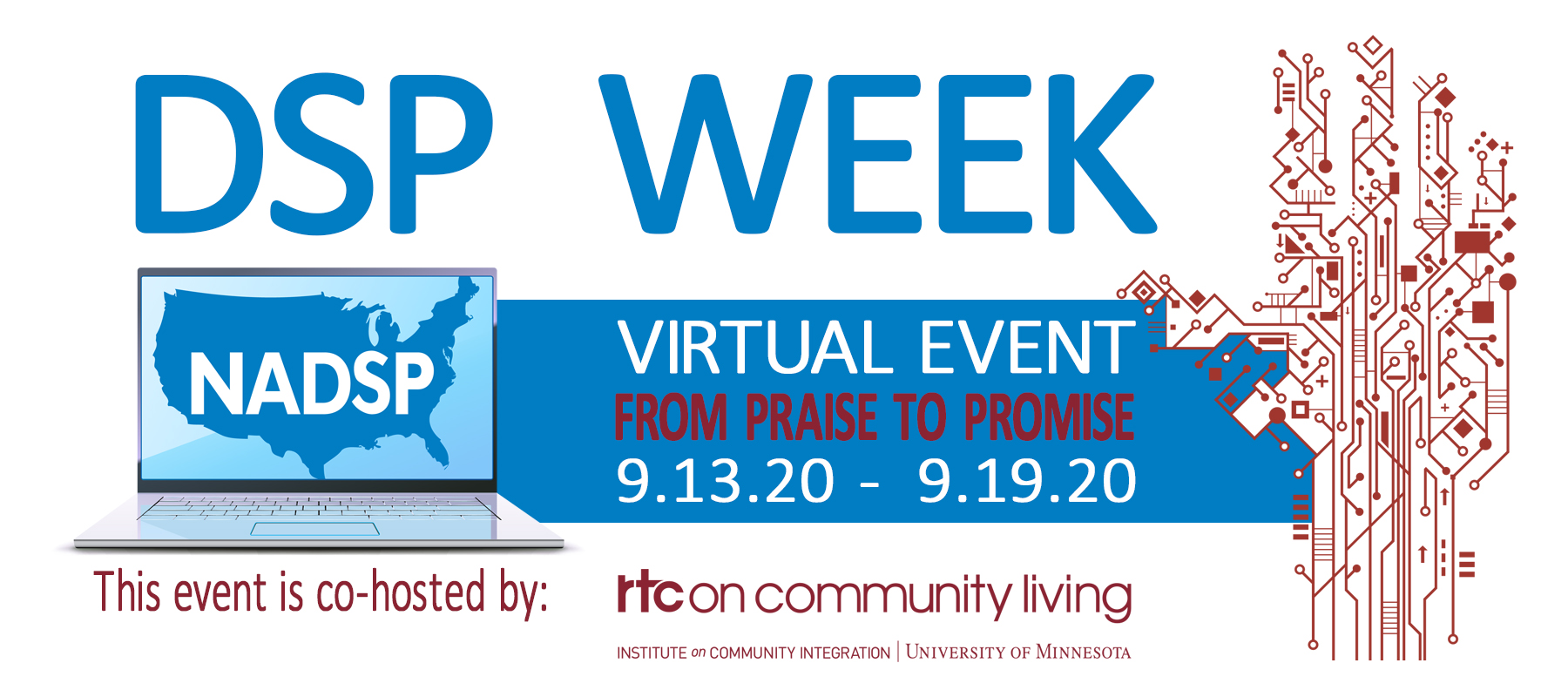 About The 2020 Virtual Event
During 2020 National Direct Support Professional (DSP) Recognition Week, which takes place from September 13th – 19th, NADSP and the Research and Training Center on Community Living from the Institute on Community Integration at the University of Minnesota, will be holding its first ever virtual event 'From Praise to Promise.' While the in-person connections created each year at our conferences feel irreplaceable, this week-long occasion provides an unprecedented opportunity.
This virtual event is completely free and we want everyone to participate.
The theme 'From Praise to Promise' offers a mix of recognition and gratitude for DSPs, along with concrete steps and proven best practices that can be implemented across the human services field. This has the potential to elevate the status of DSPs, involving how they're acknowledged, empowered, and supported.
Throughout the week we'll be hosting keynotes, breakouts, panel presentations and of course the John F. Kennedy Jr. Award. Additional details will be released in the coming weeks including the conference schedule, registration information, and sponsorship options.
We also ask that you join our Facebook Event Page to stay updated on of the latest for our virtual event.
Virtual Event Schedule
Below is the full schedule and descriptions for each session for 'From Praise to Promise.' Attendees must register for each event they would like to attend. To register, click the 'Register' button on the left of each session. Upon registering, attendees will receive a registration confirmation notice.
Please note that during each session, we will be raffling off cash and additional prizes to those who are registered. Gift Card Raffles are for Direct Support Professionals only.  To find out if you have won a raffle, you must attend the session to learn the winner at the end of the session.
If you need a reasonable accommodation for this session, please contact Nicole Dama at ndama@nadsp.org by Monday August 24th. 
Opening Reflections: From Praise to Promise
John F. Kennedy Jr. Award for Direct Support Workforce Advocacy and Leadership Presentation
Tim Shriver, American disability rights activist and Chairman of Special Olympics
Joseph Macbeth, NADSP President and CEO
The John F. Kennedy Jr. Awards will feature a pre-recorded 30 minute message from Tim Shriver, American disability rights activist and Chairman of Special Olympics. Following that message, the John F. Kennedy Jr. Award will be presented to Ann Hardiman, Chief Innovation Officer at New York Alliance for Inclusion & Innovation.
Coping with COVID
Dr. Karyn Harvey The Park Avenue Group, Director of Training and Program Development
In this session, Dr. Karyn Harvey will explore the unique stressors involved with the COVID-19 pandemic and how those stressors may effect direct support professionals and other on a day to day basis. Next, coping skills and ways to move forward will be explored.  Finally, the keys to resiliency will be discussed.
Ongoing Staff Development in Disability Services
Carli Friedman, PH.D., Director of Research, CQL
Angela Rapp Kennedy, Vice President of Systems Transformation, CQL
A lack of direct support professional (DSP) training and preparation directly impacts the lives of people with disabilities. For example, research has found that one of the leading reasons people with disabilities are not supported to participate in the life of the community is due to a fear that staff are not prepared to mitigate risks.
In this webinar, we describe our recent research about the impact ongoing staff development has on the health and safety of people with IDD. The findings suggest that by offering ongoing staff development, agencies can improve their service provision, and the health and safety of the people they support. For this reason, the second part of this webinar discusses best practices in implementing and promoting ongoing staff development at your organization. 
Invaluable Film Discussion and Panel
Jerry Smith, Marketing and Business Development Manager, The Institute on Community Integration (ICI) at the University of Minnesota
Invaluable: The Unrecognized Profession of Direct Support is a documentary film exploring the underappreciated and underfunded work of direct support professionals (DSPs), the people who support individuals with intellectual and developmental disabilities in living full lives as members of their communities. Through stories and interviews with DSPs, family members, advocates, and people with disabilities from across the country, the film honors the complexity of the work and the immense value it provides to individuals receiving support. And it asks us to take action now in strengthening the DSP workforce before the system collapses. Following the film, a panel of DSPs and filmmaker Jerry Smith will discuss the film.
2020 Moving Mountains Award Presentation & Overview
Through a partnership of the National Alliance for Direct Support Professionals (NADSP), the Research and Training Center on Community Living at the University of Minnesota and the American Network of Community Options and Resources (ANCOR), the Moving Mountains Award recognizes organizations using leading practices in direct support workforce development that result in improved outcomes for people with disabilities. Organizations that apply are required to illustrate how their direct support workforce practices and philosophy align with the principles of the National Alliance for Direct Support Professionals. Learn more about the winners by clicking here.
Sadly, the COVID-19 pandemic prevents us from getting together to share these programs of workforce excellence with you in person. Please join us in recognizing the 2020 Moving Mountain Award winners virtually during National Direct Support Professional Recognition Week on September 16th in a session sponsored by ANCOR. In addition to receiving this prestigious award, each organization will provide an overview of their winning program and the results they have yielded.
The DSP Living Through History: The DSP Being Part of History
Dave Hingsburger, Director of Clinical and Educational Services, Vita Community Living Services and Mens Sana Families for Mental Health
We are living through unprecedented times. A global pandemic envelopes us, and questioning of power and the abuse of authority asks legitimate questions. We cannot pretend that we provide service in a context untouched by what's going on around us. This lecture will look at the role of the DSP and what it means to provide direct service from both an emotional and political point of view. And of course, we will discuss that damned boat.
Words of Encouragement- Reflections from a Pandemic and Moving Forward to Professionalism and 2020 Gratitude Award Presentation
Joseph Macbeth, NADSP President and CEO
Each Friday since late March, the NADSP has shared "Words of Encouragement videos from friends and colleagues across North America expressing their affection, thanks and praise to the direct support workforce. These videos – sometimes emotional, sometimes provocative, sometimes funny, always sincere – were created to show direct support professionals that their commitment to people with disabilities during the pandemic was being recognized and offered encouragement to maintain excellence. As we conclude our week-long "From Praise to Promise" virtual event, this closing session will reflect on the nature of direct support practice and how it required resourcefulness, flexibility and creativity during very uncertain times. We will also begin a discussion on the promises we must make to direct support professionals in a post-COVID world and advance direct support into a profession that is worthy of all the praise that's been shared. 
Last year, in Cleveland, we thanked Dave Hingsburger with our inaugural "Gratitude Award", given to an individual who has volunteered their time and energy, while showing strong commitment to the mission of the National Alliance for Direct Support Professionals. This year, we are proud to recognize Dr. Diane Potts from Tulsa Community College. For the past decade, Dr. Potts has given us her time and expertise by co-chairing our Education, Training and Workforce Development Committee (ETWD), authored several of our train-the-trainer curricula. Working "behind the scenes", Diane has transformed our products into intuitive, accessible and practical professional development opportunities for direct support professionals. Dr. Potts has also been an integral part of developing national credentialing metrics for direct support as well as assisting the design of the NADSP Electronic Badge Academy.
Current Sponsors
The NADSP and the Research and Training Center on Community Living from the Institute on Community Integration at the University of Minnesota are grateful for the support from our community members. Thank you to our sponsors for showcasing their support and good will to DSPs.
John F. Kennedy Jr. Awards Sponsor

Anthem
Anthem, Inc. is the nation's leading provider of health care solutions for state-sponsored programs.  Our affiliate health plans partner with state's across the country serving 6.4 million people in Medicaid, CHIP, LTSS and other state programs.  We bring deep organizational expertise and passion working with state partners to develop dynamic and innovative health related programs to improve the availability and quality of health care and other services for individuals. www.antheminc.com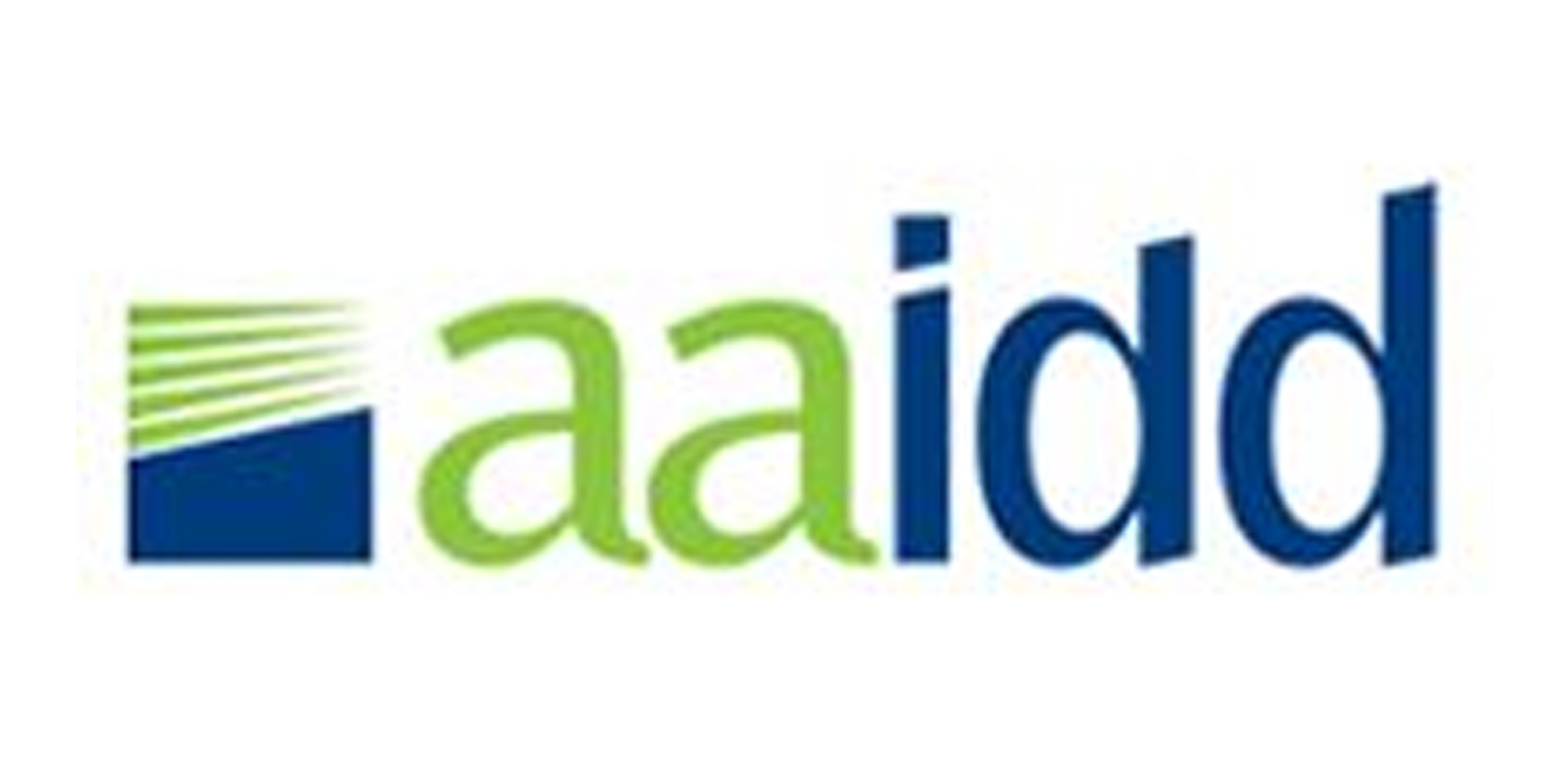 AAIDD
AAIDD, is the oldest and largest interdisciplinary organization of professionals and others concerned about intellectual and developmental disabilities. Since 1876, the American Association on Intellectual and Developmental Disabilities (AAIDD) has been providing worldwide leadership in the field of intellectual and developmental disabilities. We're a powerful community of leaders with a strong voice and important mission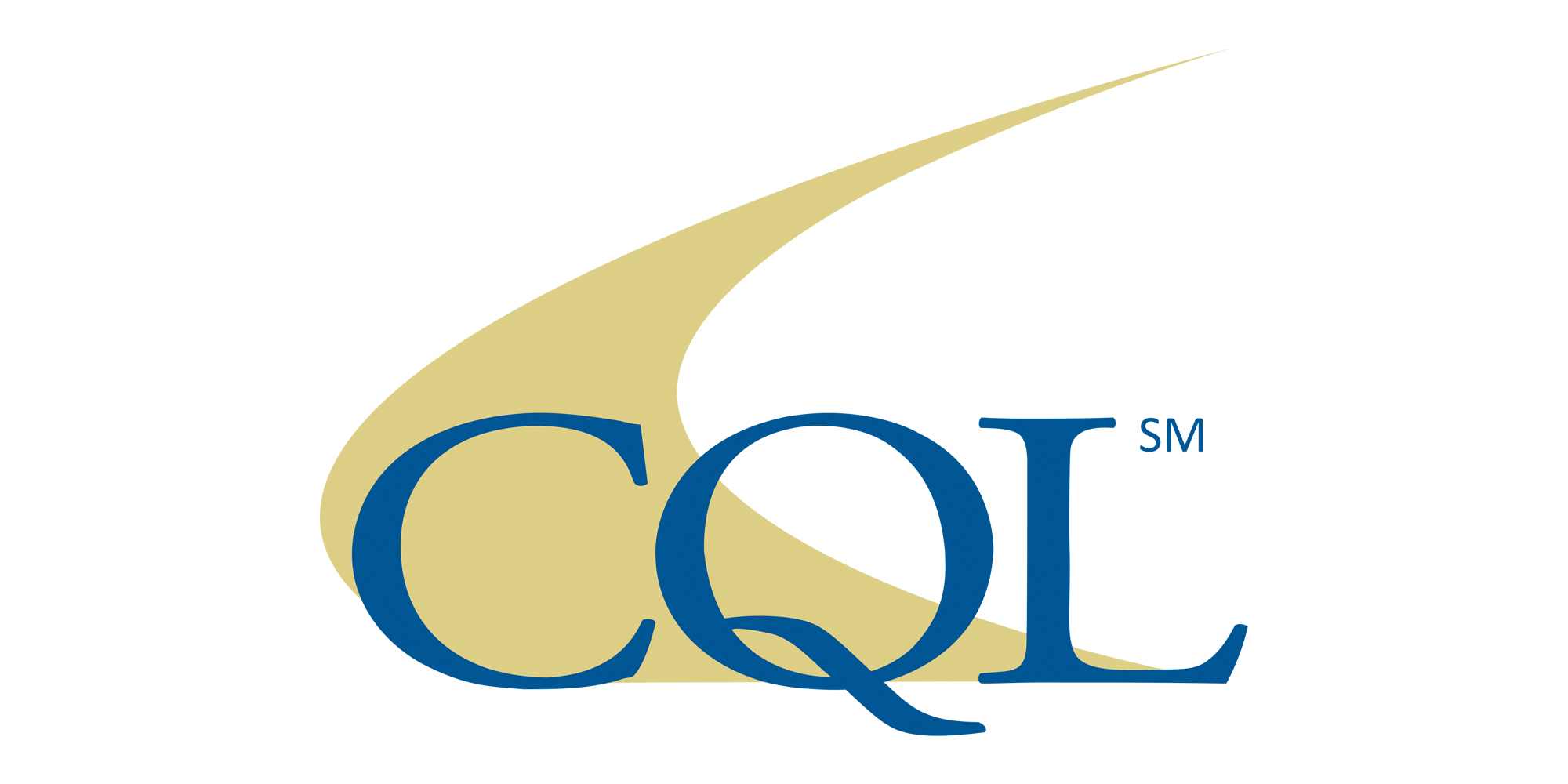 CQL
Since 1969, CQL | The Council on Quality and Leadership has been a leader in working with human service organizations and systems to continuously define, measure, and improve quality of life and quality of services for youth, adults, and older adults with intellectual and developmental disabilities, and psychiatric disabilities. CQL offers accreditation, training, certification, research, and consultation services to agencies that share our vision of dignity, opportunity, and community for all people.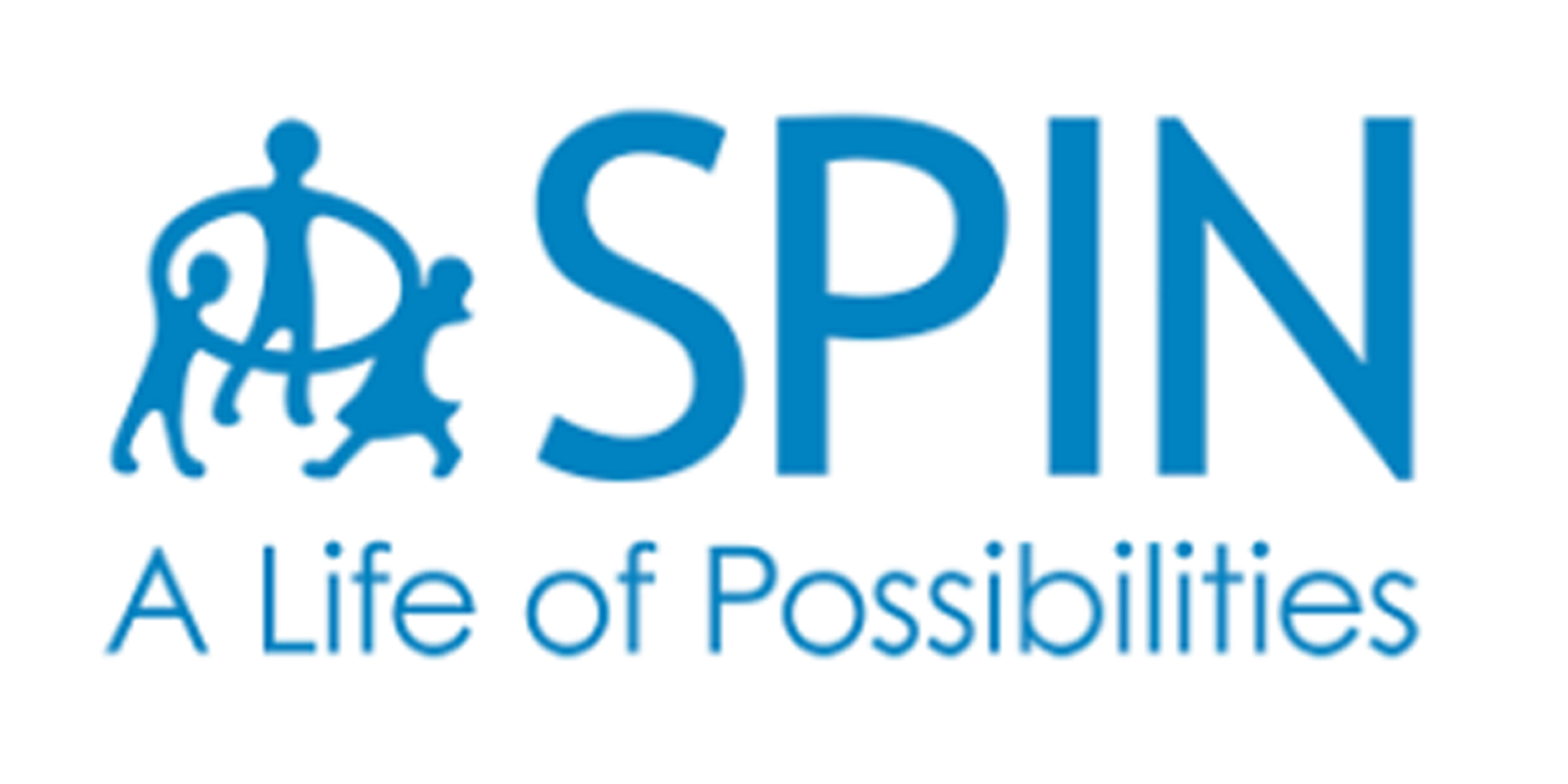 SPIN
SPIN provides the highest quality, people-first services and supports for children and adults with intellectual, developmental, and autism spectrum disabilities so that each may achieve and enjoy a life of possibilities.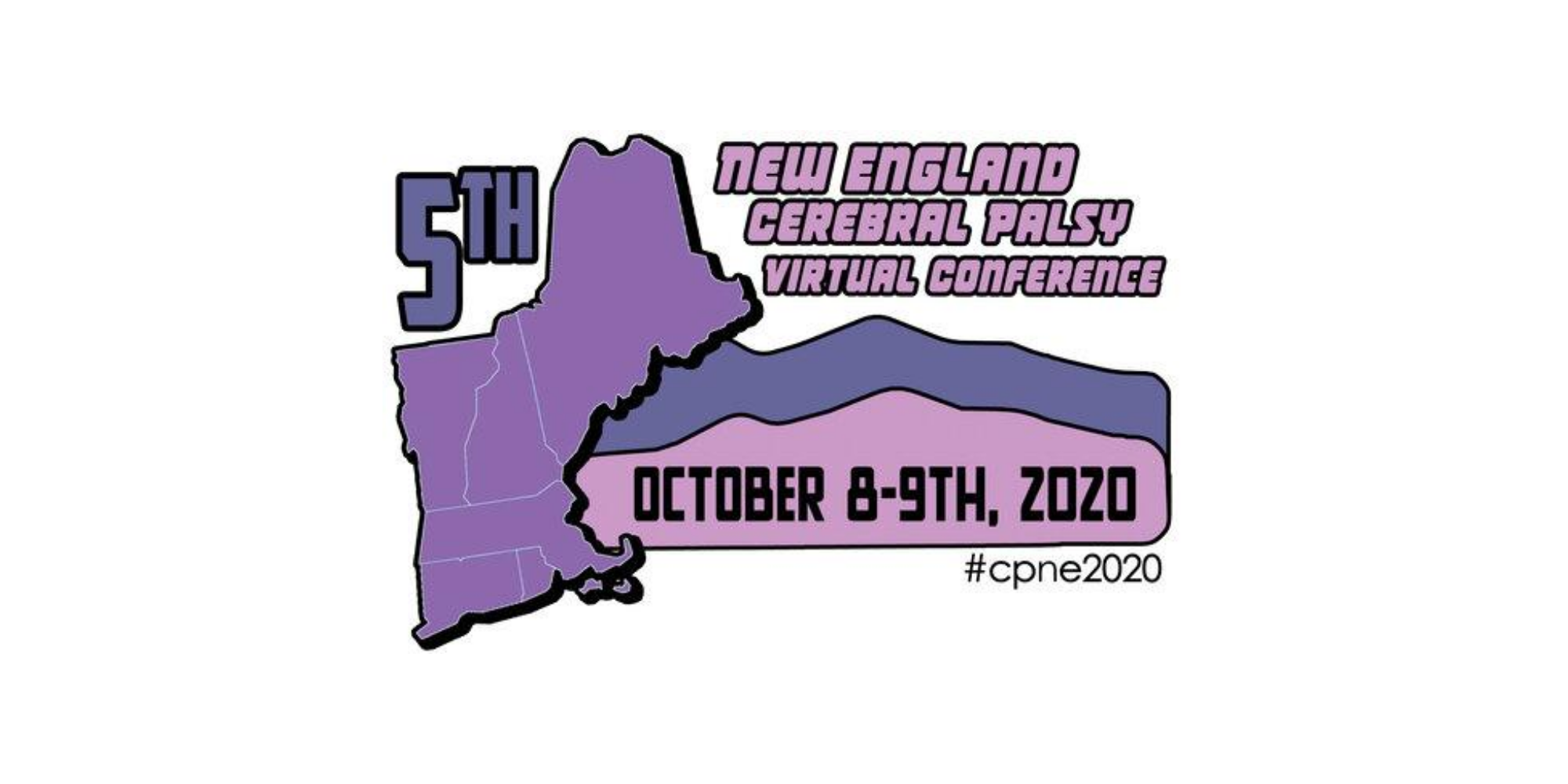 Cerebral Palsy Conference
The Conference is a 100% virtual event designed to reach the global CP audience. The Conference is structured just like a traditional ground event with a lobby, exhibit hall, auditorium, breakout sessions, swag and more! The Conference is accessible from any laptop, tablet, or mobile phone.
Registration is $20 For those living with Cerebral Palsy and for friends and family of those living with Cerebral Palsy
Registration is $30 for General Registration.
NADSP conference attendees:  use the code: NADSP2020 for 15% off!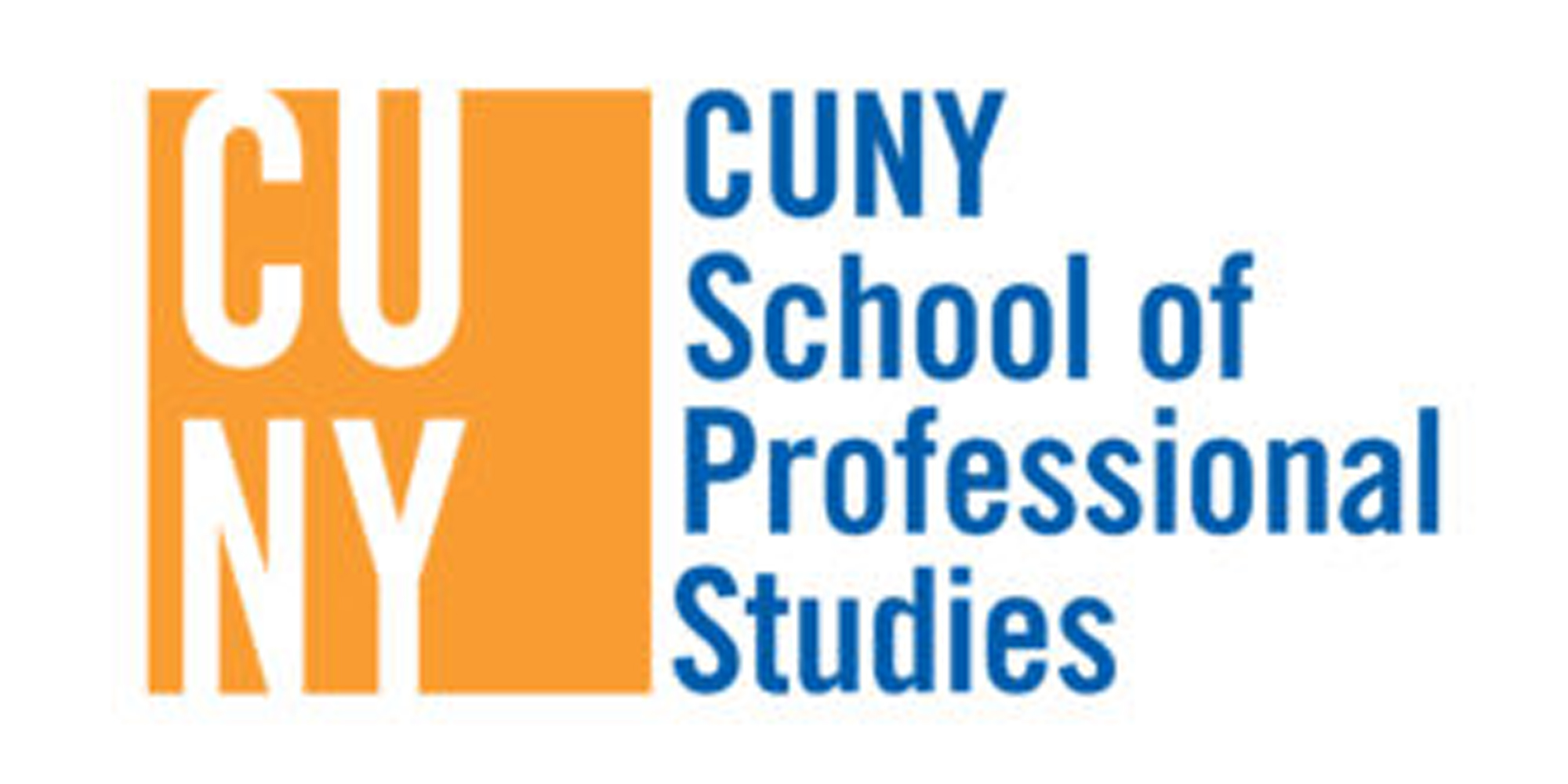 CUNY School of Professional Studies
The BA in Disability Studies at the CUNY School of Professional Studies provides students with a 'person-centered' approach to the study of disability. Designed for people working in the field of direct support, the program equips students with the skills to work with and advocate for persons with disabilities, while earning an educational credential to advance their careers.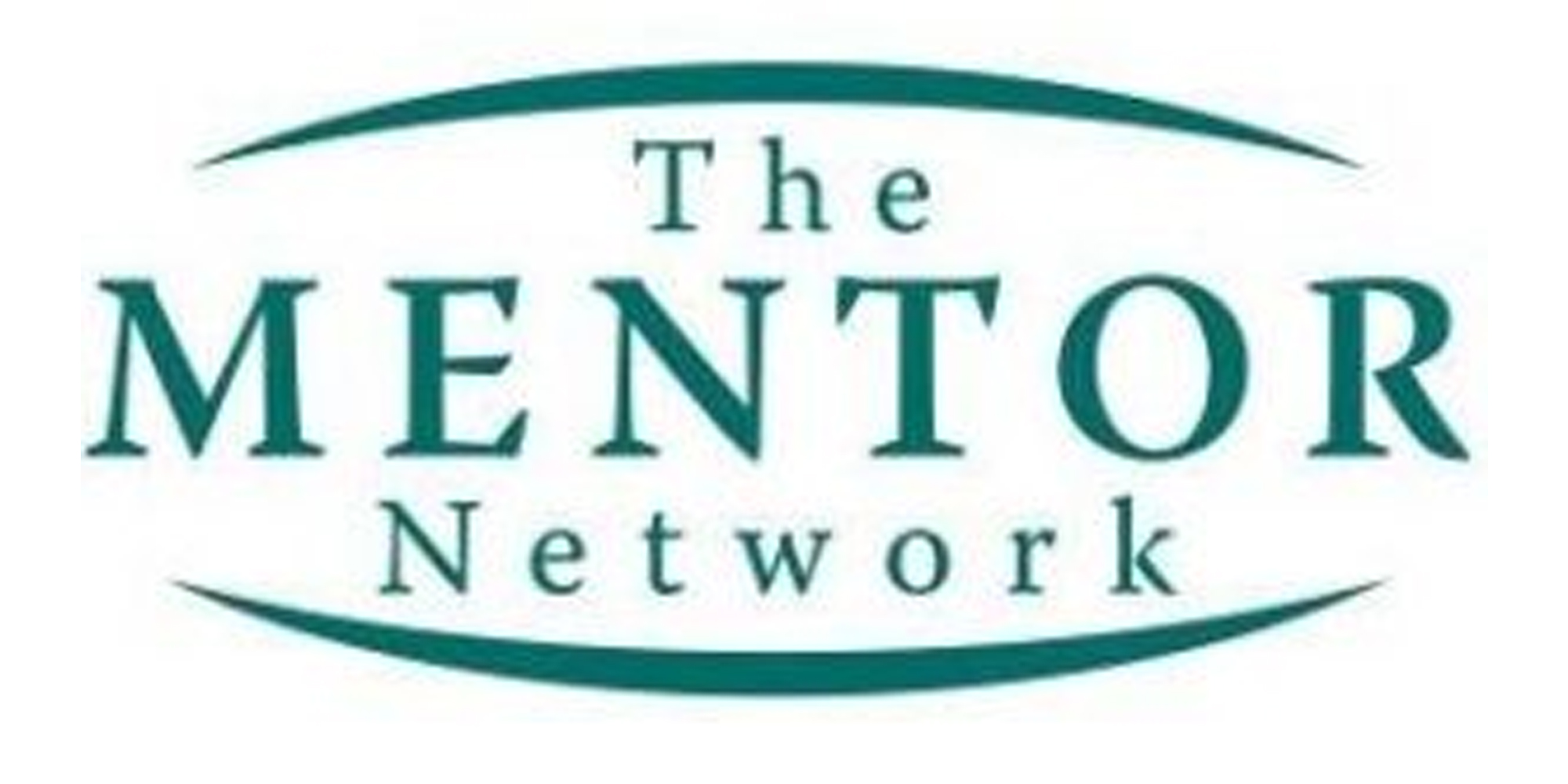 The Mentor Network
The MENTOR Network is a national network of local health and human services providers in more than 30 states offering an array of quality, community-based services to adults and children with intellectual and developmental disabilities, brain and spinal cord injuries and other catastrophic injuries and illnesses, and to youth with emotional, behavioral and medically complex challenges, as well as their families; and to elders in need of support.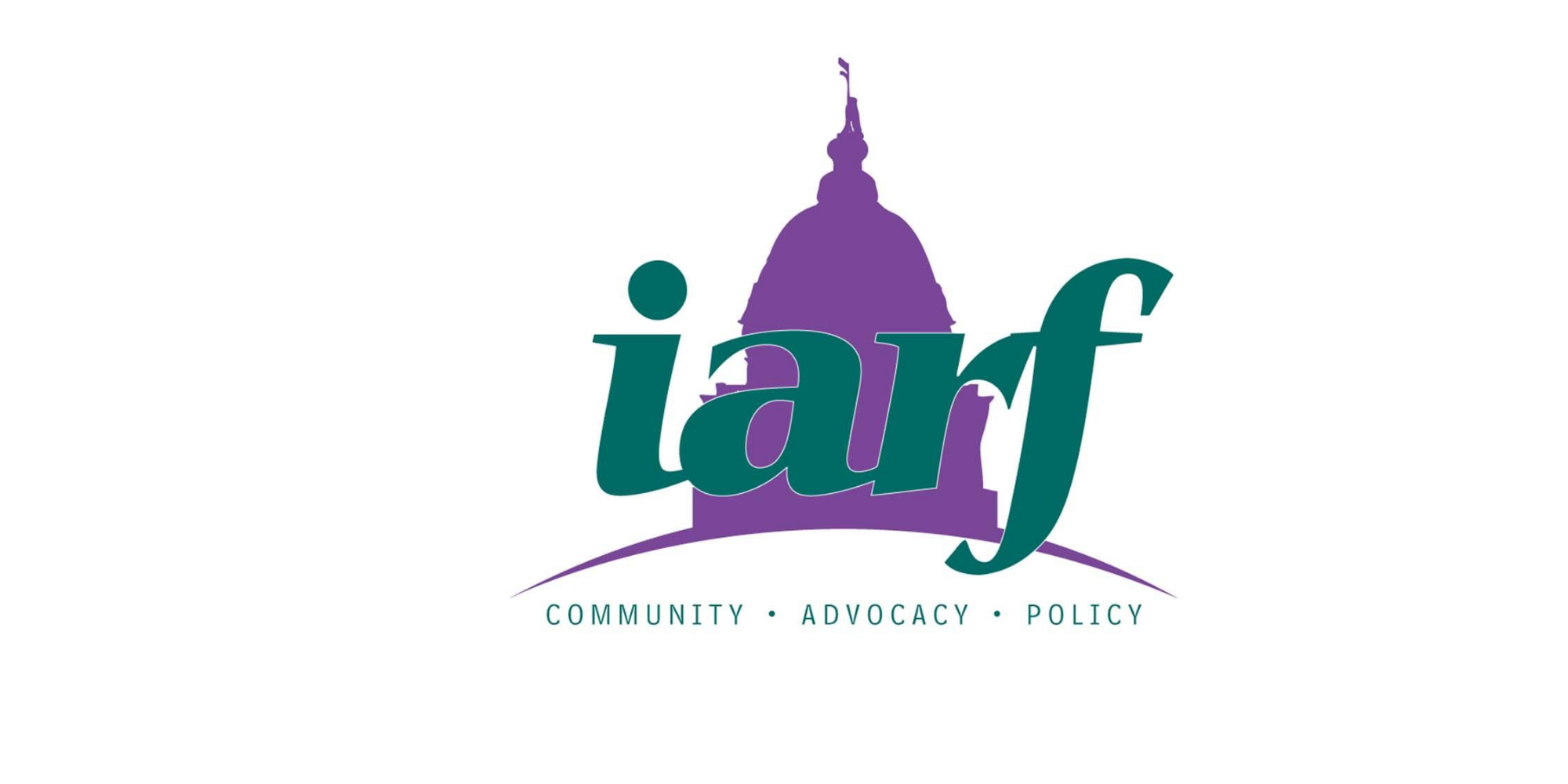 IARF
Since its incorporation, IARF has been the voice of human service organizations in government. In addition we have worked to provide agencies with individual consultation on issues that affect them specifically. IARF also commits itself to developing programs that return members' investment of their dues.  Our purpose is clear, "To assist in the development and improvement of services in Illinois."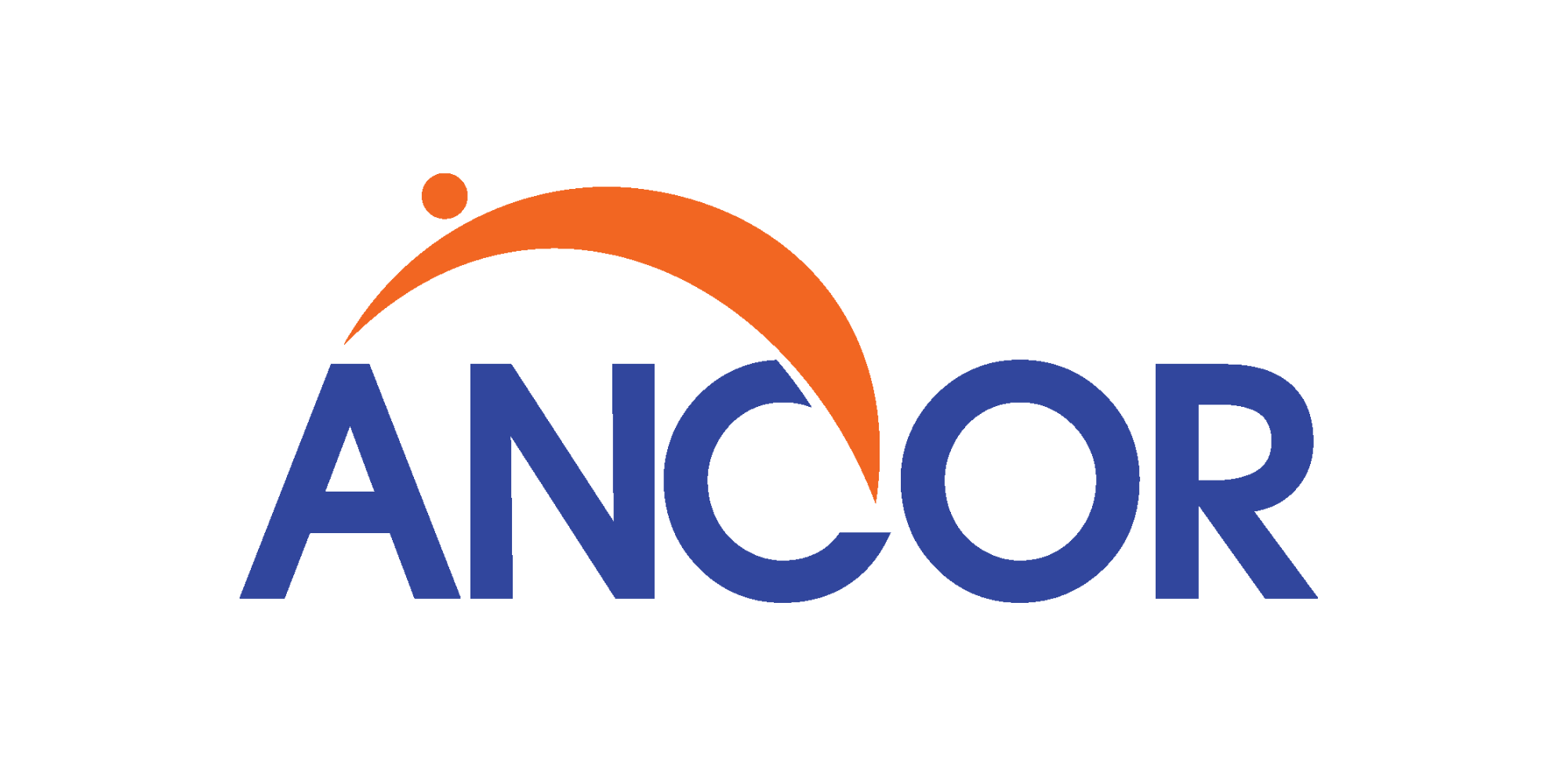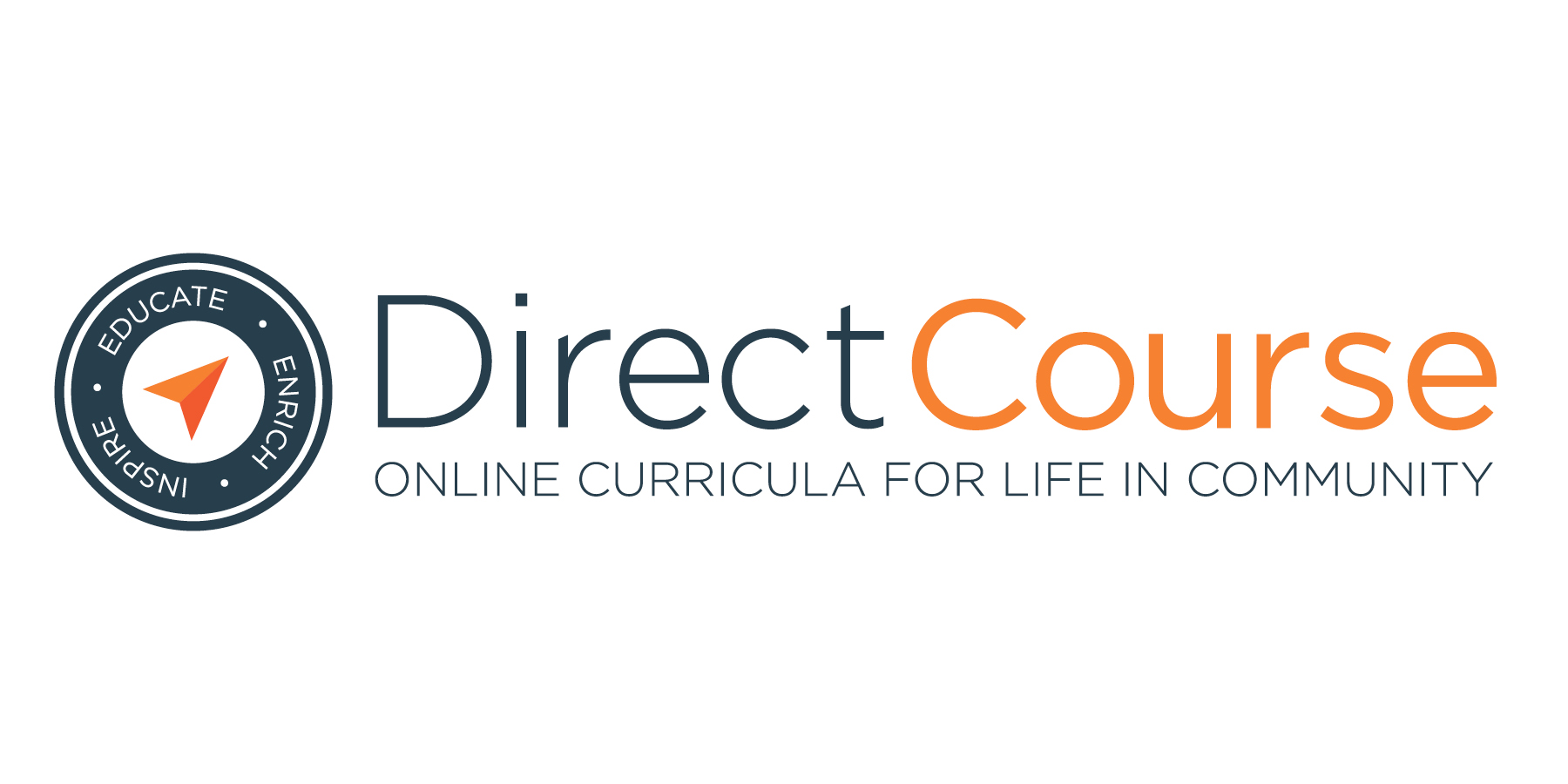 For nearly 50 years, the American Network of Community Options and Resources (
ancor.org
) has been a leading advocate for the critical role service providers play in enriching the lives of people with intellectual and developmental disabilities (I/DD). ANCOR represents 1,600+ organizations employing more than a half-million direct support professionals who together serve more than a million individuals with I/DD. Our mission is to advance the ability of our members to support people with I/DD to fully participate in their communities.
DirectCourse is online competency-based training designed to empower direct support professionals (DSPs) to lead people with disabilities toward richer, more rewarding lives within the community. Our courses align with the nationally recognized set of competencies from NADSP to help ensure that DSPs make life in the community a priority for the people they support.