It is with honor that the National Alliance for Direct Support Professionals (NADSP) board of directors announce that Ann Hardiman will be recognized as the recipient of the John F. Kennedy Jr. Award for Direct Support Workforce Advocacy & Leadership for 2020.
Ann was nominated by former awardees, Regis Obijiski and Amy Hewitt. She currently serves as the Chief Innovation Officer (CIO) for the New York Alliance for Inclusion and Innovation in Albany, New York.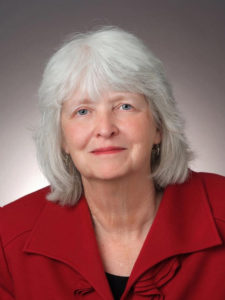 For more than two decades, Ann led the statewide trade association New York State Association of Community and Residential Agencies (NYSACRA) as its Executive Director. In this role Ann was instrumental to the early success of the NADSP with her generous support of office space and mentorship to Joseph Macbeth, NADSP's first employee and executive director. Throughout the course of Ann's professional career, she has steadfastly focused on improving the working conditions of the direct support workforce. While well-known as a fierce workforce advocate in New York's capital, she was driving force in hosting more than 100 direct support professional conferences across five regions, produced an award winning Realistic Job Preview video, secured more than $1 million in grants to assist New York's DSPs in starting or resuming their college careers and was the leading voice in creating living wage campaigns, career ladder opportunities and professional recognition for the states direct support workforce. During the Obama Administration, she was appointed to the President's Committee for People with Intellectual Disabilities where she served for three years. Earlier this year Ann was honored as an Essential Change Agent by the National Historic Recognition Project: 2000-2020.
NADSP Board Member and past president of both national and statewide self-advocacy associations Chester Finn,  reminds us that Ann Hardiman was chosen to serve on the President's Commission on Intellectual Disabilities during the Obama administration for two good reasons: "First and foremost, Ann is dedicated to people with disabilities' right to be included in their communities in ways that help them be happy, productive citizens. Second, she has worked really hard to help those of us with disabilities reach our potential by advancing the ethics, abilities and profession of direct support professionals."  Chester continued, "What makes Ann really great is the way she listens to us and always encourages us not only to advocate for ourselves but also to advocate in equal measure for DSPs who are essential to our success."
Ann will be honored as the John F. Kennedy Jr. Award for Direct Support Workforce Advocacy & Leadership winner during National Direct Support Professional Recognition Week in September via a live ceremony with Tim Shriver.
Learn more about the John F. Kennedy Jr. Award for Direct Support Workforce Advocacy & Leadership by clicking here.