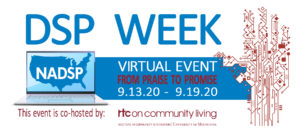 Last year, in Cleveland, the NADSP thanked Dave Hingsburger with our inaugural "Gratitude Award", given to an individual who has volunteered their time and energy, while showing strong commitment to the mission of the National Alliance for Direct Support Professionals. This year, we are proud to recognize Dr. Diane Potts from Tulsa Community College. For the past decade, Dr. Potts has given us her time and expertise by co-chairing our Education, Training and Workforce Development Committee (ETWD), authored several of our train-the-trainer curricula. Working "behind the scenes", Diane has transformed our products into intuitive, accessible and practical professional development opportunities for direct support professionals. Dr. Potts has also been an integral part of developing national credentialing metrics for direct support as well as assisting the design of the NADSP E-Badge Academy.
"Diane's dedication behind the scenes has showcased her commitment to the professional development of direct support professionals," says NADSP President and CEO Joseph Macbeth. He continues, "Her work has had a far reaching impact and continues to support our mission to elevate the role of direct supports professionals."
Dr. Diane Potts will be honored on the final day of the From Praise to Promise Virtual Event on Friday, September 18th at 1:00pm ET. We will be hosting a live award presentation in coordination with our DSP Supporter Sponsorship partners at the Volunteers of America Oklahoma.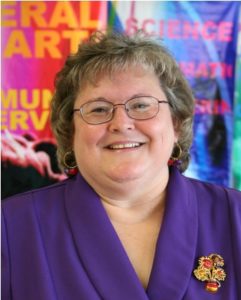 More About Diane Potts, PhD.:
At Tulsa Community College (TCC), Diane has held faculty and administrative positions within the college over the past 30 years. She earned degrees in Child Development, Psychology, Special Education, and holds her Ph.D. in Human Services through Capella University. This past spring, she achieved Full Professor of Human Services in the inaugural class to be awarded professorship at TCC. She teaches a wide range of courses in human services, including child and family, human development and disabilities.
Most recently, Diane was selected as a Faculty Development Fellow for Engaged Learning at TCC, and serves as a facilitator and design coach for faculty across the college in professional development and online course design. During COVID-19, she has served on the instructional team to onboard more than 500 faculty to date with skills to transition to an online presence in their courses.
Diane has served as Project Director for the DSP Project since 2008. Originally a grant initiative through Oklahoma Developmental Disabilities Council, this work has focused on establishing a career ladder for DSPs with college-level coursework and the establishment of DSP-OK, a chapter of NADSP.
Diane is active in the community as a parent educator and non-profit consultant and serves as Director Emeritus on the Board of Directors for Volunteers of America of Oklahoma. She is a Civitan International member currently serving in roles at the community, district and international levels, including faculty advisor to TCC Campus Civitan and Heartland District Campus Civitan.
Diane serves as Co-Chair of the Education, Training, and Workforce Development (ETWD) Committee for the National Alliance for Direct Support Professionals, and Lead Reviewer for NADSP Accreditation of training curriculum and an E-badge and DSP/FLS Portfolio reviewer. She is a national consultant and curriculum writer for NADSP Online Train-the-Trainer products.
Diane is married, has two adult sons, and is grandparent of three (her best "gig" to date!). She enjoys travelling anywhere, reading most anything, music and playing piano, creative endeavors in the kitchen, and family time.
To learn more about Diane's session, Words of Encouragement- Reflections from a Pandemic and Moving Forward to Professionalism and 2020 Gratitude Award Presentation, click here.