This is the first level of credential offered. The DSP-Registered (DSP-R) status is intended to recognize people who have entered the profession and desire to have careers in the field of community human services. It is not intended to be a credential for which NADSP prescribes or sanctions DSP competence.
DSP-R applications that are complete and include payment will be reviewed within 6 weeks of receipt. Applications will not be reviewed until payment has been received. Applicants should ensure they meet the following criteria before applying.
Why become credentialed? Having a DSP-R is a wonderful thing that helps fund NADSP. We are happy to have people register for DSP-R and just stop there. Many interpret getting a DSP-R as a stepping stone towards national certification but it is also just a great way to be registered in good standing with NADSP. It is never required to continue on to the Credential.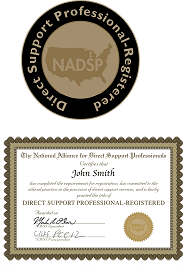 NADSP DSP-Registered
Completed NADSP application form
Commitment to adhere to NADSP's Code of Ethics
Statement of professional commitment from the applicant which describes their values, commitment to, and purpose for entering the profession
Letter from the employer indicating that the applicant:

has completed all required training and orientation as prescribed by the jurisdiction in which they work and an employer in community human services or a person who self-directs her or his own services and supports,
has six months continuous and current employment with an employer in community human services or a person who self-directs his or her own services and supports,
has no substantiated cases of abuse, neglect or exploitation,
has a criminal background check with results that meet the standards of employer and the jurisdiction in which they work.
Get Started
You can begin the process towards obtaining your DSP-Registered (DSP-R) status by completing and submitting the online application form. After you have submitted the application, NADSP will be in touch about any next steps.
Fee: $50.00
What happens after I apply?
Your DSP-Registered application packet will be reviewed by NADSP within 4-6 weeks after the date that we receive it. If your application meets the criteria for the DSP-R credential, you will receive your DSP-Registered recognition package.
Once you become credentialed at the DSP-Registered level, you will be eligible to move forward to additional levels of credentialing that recognize your skill-based competency in providing direct support to individuals who use community human services.
Direct Support Professionals will also receive formal recognition of this designation:
Officially embossed certificate that identifies the DSP as a DSP-Registered
Lapel pin that says "Direct Support Professional-Registered"
Re-Certification
Re-certification is required to maintain active certification status. The DSP-R Annual Renewal Form is due on or before the last day of February annually, after the first full year of being certified.
Fee:
There is no re-certification fee for DSP-Registered (DSP-R).