The National Alliance for Direct Support Professionals (NADSP) has created a unique curriculum and video series that can help human services organizations introduce the foundations of direct support practice in an exciting, abbreviated, and informative manner. The NADSP's newest curriculum, "The Onboarding Curriculum," features an opportunity like no other for organizations to set a professional tone and expectation for their newest hires to understand the skilled world of direct support.
"Along with countless lives, the COVID-19 pandemic has cost so many people their jobs. Despite this, the human services field continues to offer numerous career opportunities – particularly in the area of direct support," says Joseph Macbeth, NADSP President and CEO. "As a new wave of direct support professionals enter the field, this curriculum helps create a foundation for success."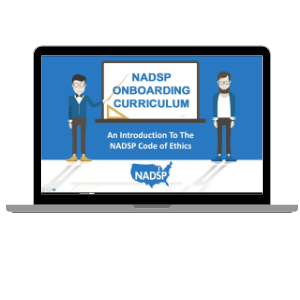 Welcoming and on-boarding new direct support professionals into an organization is a critical moment. NADSP's Onboarding Series provides a virtual orientation for trainers and Human Resources teams to utilize material included beyond the typical topics and is devoted to the competent practice of direct support.
The start of a direct support professional career can make or break an individual. With the correct supports and education, a new direct support professional can find longevity and feel prepared for their role. The NADSP Onboarding Curriculum contains four hours of user-driven training videos along with surveys and supplemental materials to keep participants engaged and challenged. Organizations can utilize these materials to support onboarding and orientation.
Takeaways For Participants:
NADSP Competencies
NADSP Code of Ethics
The History of Intellectual and Developmental Disabilities
Informed Decision Making for Direct Support Professionals
DSP Recruiting- Job Description
Post-Training Evaluations
"As an strong advocate for the NADSP and their philosophies/training, the NADSP Onboarding training package is a great way to introduce your team to the NADSP, their DSP Competencies, the Informed Decision Making (IDM) process and other of the great NADSP philosophies" says, James Phillips, Senior Director of Human Resources, The Arc Northern Chesapeake Region.
###
About NADSP
The vision of the National Alliance for Direct Support Professionals (NADSP) is a world with a highly qualified and professional direct support workforce that partners with, supports, and empowers people with disabilities to lead a life of their choosing. NADSP works to elevate the status of direct support professionals by improving practice standards, promoting system reform, and advancing their knowledge, skills and values, through certification, credentialing, training, professional development, and accreditation services.