"Was I deceiv'd, or did a sable cloud turn forth her silver lining on the night?", John Milton's "Comus" (1634). If there was a silver lining to be found during this COVID-19 pandemic, it would be that people need jobs and we, the human services field, have plenty to offer. The trick is, how do we keep the people we hire now with us after the pandemic is over? The standards for hiring should never be weighted by the state of the economy or the vacancy rate of an organization, it should be an unwavering standard of quality. During this crisis, we have been given the ugly gift of meeting applicants that we may not have had a chance to meet – those who have little knowledge of the work that direct support professionals do. How do we recruit, hire, and retain a workforce that is coming to us as a last resort? How do we capitalize on that silver lining?
First, we should not accept that hiring for the human services field is uniquely different than hiring in other professions. The duties and skills required for the job may be different; however the expectations of management, professional development opportunities, and other supports required for success are typically the same as any major corporation. According to Gallup, people are looking for "Opportunity for unlimited development, a company with a strong mission and purpose, and a supportive manager". Generally speaking, employees want an opportunity to build on their strengths and contribute to the overall success of the company. Armed with this knowledge, it is essential for recruiters, or people who are responsible for hiring, to clearly define their organization's mission statement when meeting with an applicant. Not simply recite the mission statement or hand out wallet-sized cards with the mission statement printed on it, but clearly articulate the "Why" behind the work of the organization. The responsibilities of a direct support professional is so unique and often misunderstood, it is also important to show applicants "What" the expectations of the job are. Using a Realistic-Job-Preview will help unfamiliar applicants see how the complex work is done and give them the opportunity to ask questions and address possible concerns before signing that dotted line.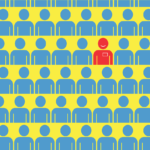 Now that you have clearly articulated why the organization exists and the expectations of the job, it's time to find out what the applicant can do for your organization. You want to find out if the applicant has the internal qualities that align with your organization's culture and that they have the willingness to learn the skills needed to provide quality supports. With the onset of the pandemic, now more than ever, we have people applying for direct support positions who know very little about the field and even less about regulatory requirements. So what questions should you be asking? A mentor of mine once said that you can train tasks and work on skill development, but you cannot train character or change someone's ethical behavior. With that in mind, you may find that asking interview questions focused on soft skills is more helpful and important than asking if someone is CPR/First Aid certified. Another question to consider would be, which program is the best fit for this particular applicant? The Learning Community for Person-Centered Practices would characterize this as "matching." Remember earlier when I said that people want to build on their strengths, well here is a great opportunity to do so. Ask the applicant what is important to them? What do they really enjoy doing? What are some of their hobbies? The person who is doing your hiring should know where within the organization people receive supports have those same interests. Matching people with similar interests will only add to job satisfaction and quality outcomes for people receiving services.
After the mission has been shared, the Realistic Job Preview has been viewed and discussed, the soft skills assessed, the strengths and interests identified and the person is matched, your job doesn't stop there. The support of management plays a crucial role in the retention of any new hire and how they engage in the work environment. As a possible best practice and to help develop a sense of ownership and build on strengths, involve current direct support professionals in peer-mentoring. Using a team of direct support professionals' knowledge, values and skills, guided by the NADSP Code of Ethics and Core Competencies, can be the key to a new hire's overall success. You want people to feel supported and stay with your organization when the economy improves and other job opportunities become available.
In times of darkness the optimist will always find the silver lining. Embrace this unique opportunity and choose wisely. The future of your organization depends on it.