Submitted by: Kelly Fry, Penn-Mar Human Services
Susan Nelson worked as a Direct Support Professional for Penn-Mar Human Services, an organization offering residential options, vocational training, supported employment, individual support services, transportation, and more in northern Baltimore, eastern Carroll and western Harford counties in Maryland, as well as southern York County in Pennsylvania.

Susan was no stranger to the non-profit as her father Alfredo was a Penn-Mar Human Services Direct Support Professional for about five years. "At first, just hearing about my dad's experiences supporting people sounded like fun," said Susan. "But once I started working and learning about those receiving services and the responsibilities of the job, I realized quickly that it wasn't going to be easy. That was a big eye opener," she added.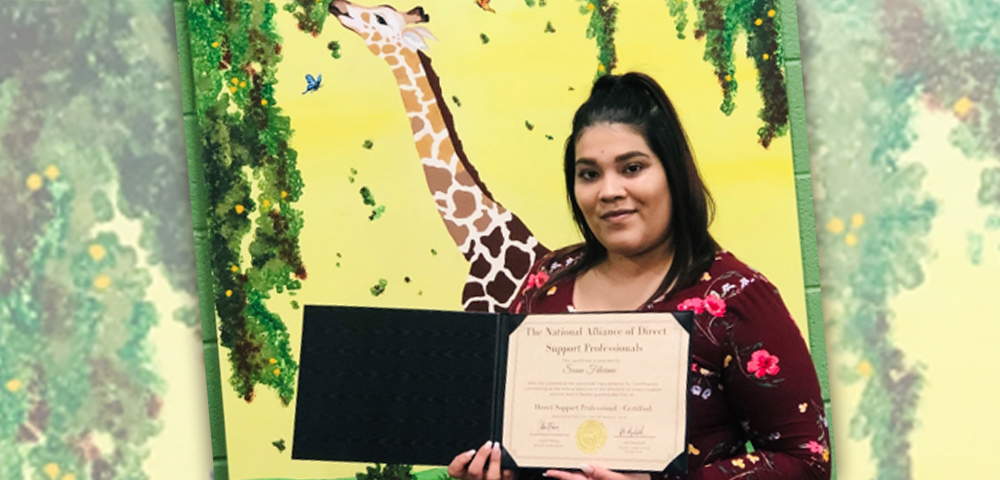 One of the areas of support she felt particularly passionate about was how people with intellectual and developmental disabilities cope with grief.
"I learned that people with intellectual disabilities grieve just as we do, and that sometimes it might be harder for them to express that grief because of communication barriers and not be able to express themselves freely," shared Susan.
As Susan grew into her role as a Direct Support Professional, she created a connection with one man she supports that gave way to a closer level of comfort and familiarity. This was demonstrated in her supports during a time of grief after his father passed away.
"He's still grieving for his dad. They were very close," said Susan. "As he goes through the grieving process, I'm trying to help him communicate and understand his emotions."
Another area she feels passionate about is employment. On a weekly basis, Susan accompanies him to his job at Archetype Frameless Glass in Yoe, PA, where he cleans the restrooms and lunchrooms. Susan provides supports related to his work, so that he can live out his desire to be successfully employed and active in the world around him.
She also places a strong emphasis on providing supports for community participation. She has worked hard to help people in identifying and enjoying events, attractions and more. This comes to life as the man she supports volunteers at 'Steam Into History,' a local attraction where a train takes visitors around the local area. His volunteering is of great importance to his happiness, as one of his favorite hobbies involves trains.
Susan's DSP-I Certification through NADSP demonstrates her dedication to the field of human services. It is evident she takes this responsibility seriously and through the guidance of the Code of Ethics, embraces a high level of integrity that is necessary to best support people.
This article is part of a campaign during the 2019 National Direct Support Professional Recognition Week, to acknowledge Direct Support Professionals who are demonstrating excellence through the use of NADSP's Code of Ethics/Competency Areas and/or CQL's Personal Outcome Measures®. This campaign was developed through a partnership between The National Alliance for Direct Support Professionals (NADSP), CQL | The Council on Quality and Leadership, and The American Network of Community Options and Resources (ANCOR).