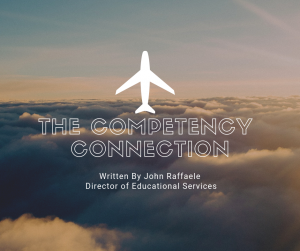 The National Alliance for Direct Support Professionals (NADSP) values and respects the great work of the millions of direct support professionals in North America.  One important aspect of the organization is our commitment to contributing to the knowledge, skills and values inherent in the work of direct support. The NADSP has given our professional field a validated set of fifteen research-based competencies and a code of ethics, among many other contributions.  However, we feel it is important to dive deeper into the importance of what competency truly means for direct support professionals. We are devoting some blogging to this exploration and we hope it enlightens all who read about the complex skills associated with direct support.
I fly a lot. I am sitting on an airplane at 35,000 feet and travelling 500 miles per hour as I type this.  Before I boarded this jet airplane I observed two pilots arrive at the gate. Looking partly like an ancient ritual and a secret handshake, they both greeted the gate agent.  Each pilot went to a computer at the desk and printed out some documents and then made some phone calls.  They spoke with the gate agent about luggage weight, needs of the passengers and a few other important things. The pilots then proceeded to be allowed entrance to the jet-way where they disappeared as the door slammed shut behind them. They were headed to the cockpit of the Boeing 737 that was about to take off in 40 minutes.  Soon after, I was allowed on the plane along with the 150 other women, men and children about to take flight.  I walked past the cockpit as I entered the plane and peeked at the pilots who were very busy preparing for the flight.  I have watched this routine hundreds of times.  And, I am always impressed at the level of competency I observe from pilots, flight attendants and all the other players that make air travel safe and convenient.
How does all of this connect with the duties of a direct support professional?  I would argue, it has everything to do with the practice of a profession.  Professionals need to be competent at what they do. Whether it is an airline pilot or a direct support professional, each one will ultimately be evaluated on how skilled they are in their practice.  How does skill get measured?  We evaluate professional skill based on how well the person performs competencies. Furthermore, as one who observes direct support professionals as much as I observe airplane pilots I can confirm that direct support professionals utilize as many competencies and skills.
Competencies are validated actions and frequently performed functions of a professional. Once validated by the professional community, the competency set is used as a guideline to measure and improve professional performance and competence. Direct support professionals have a robust set of competencies to use as a skill guide and as a measure of evaluation. The following list of the National Alliance for Direct Support Professionals Competencies is used to evaluate, develop and educate direct support professionals;
Participant Empowerment
Communication
Assessment
Community and Service Networking
Facilitation of Services
Community Living Skills and Supports
Education, Training and Self-Development
Advocacy
Vocational, Educational and Career Support
Crisis Prevention and Intervention
Organizational Participation
Documentation
Building and Maintaining Friendships and Relationships
Person-Centered Supports
Supporting Health and Wellness
Furthermore, direct support professionals assist people who need support to lead self-directed lives and participate fully in their communities.  They work to recognize the unique gifts, preferences and needs of each person supported. They partner with people in helping them making informed decisions and everyday choices about their finances, well-being, relationships, and employment. Direct support professionals use knowledge, skills (competencies), and values (NADSP Code of Ethics) to guide their work and provide quality services.  Direct support professionals continue to learn and develop their professional abilities through ongoing in-service and self-directed education and training. Direct support professionals understand that quality services occur at the point of interaction with the people that they support. They realize that their role includes being a mentor and a facilitator.  Direct support professionals inform the people they support regarding their responsibilities and advocate with them for their valued role in society. They empower people they support to have meaningful relationships with friends, their families, and promote integration and inclusion in all our nation's communities.  Direct support professionals respect the privacy of the people they support and commit to promote their physical and emotional well-being.
I would say reading this impressive list of responsibilities, functions and ultimately looking at the fifteen competencies, we can safely say that the job of the direct support professional is as equally complex and important as the job of an airline pilot.  Direct support professionals hold people's lives in their hands quite literally as that of airline pilots.  The connection is clear.'
What is Competency?: The NADSP Lunch & Learn Webinar
What Is Competency?: The NADSP Lunch & Learn Webinar