In January, we launched The NADSP E-Badge Academy as part of our commitment to our mission to elevate the status of direct support professionals by improving practice standards; promoting system reform; and advancing their knowledge, skills and values. Over the last two years, NADSP has been fine-tuning The NADSP E-Badge Academy to create a new and more effective credentialing platform.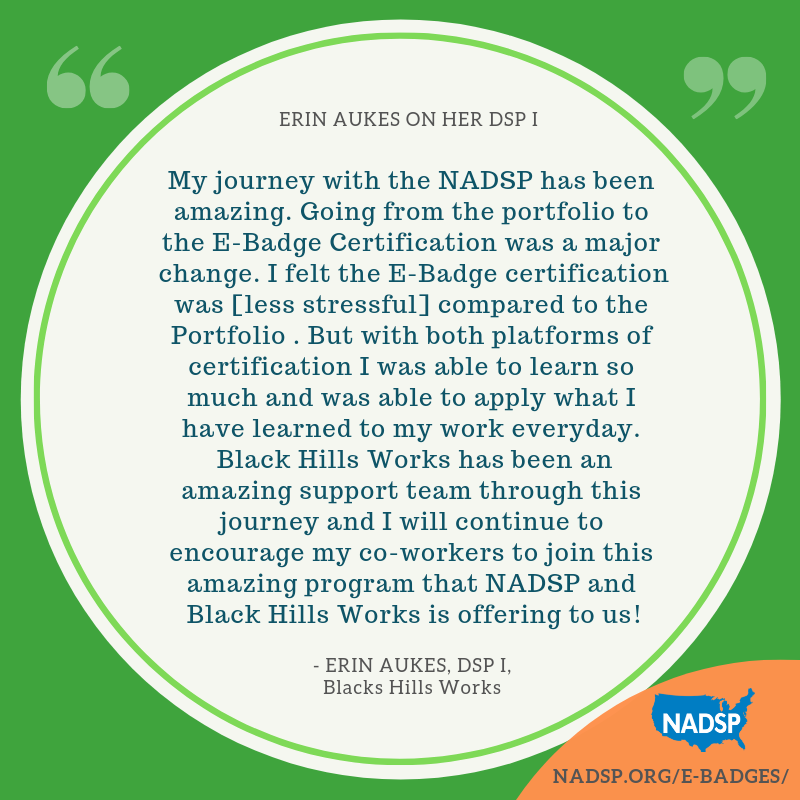 We are excited to announce that Erin Aukes, Direct Support Professional at Black Hills Works is the first person to achieve the DSP- I Certification through The NADSP E-Badge Academy! Erin had previously been working toward DSP-I certification through the traditional portfolio-based certification. Through the support of Black Hills Works, she was able to quickly change gears and reach this historic milestone.
Black Hills Works Director of Credentialing, Tanya Fritz says "Black Hills Works transitioned from the traditional portfolio process to The E-Badge Academy certification this year. We were initially a bit skeptical about whether we would see the same level of professional growth among our staff. We currently have 35 individuals participating in The NADSP E-Badge Academy and have been impressed to watch their progress and growth. The NADSP E-Badge Academy gives our staff more control over the process, breaks it down into manageable pieces, and really underscores the importance of the competencies and values of NADSP."
Black Hills Works was the first agency to purchase The NADSP E-Badge Academy. They have been a supportive partner as we expand NADSP certification to more DSPs across the country. Brad Saathoff, Chief Executive Officer said "Black Hills Works has found the roll out of the E badge credentialing model that was done with Dan and John from NADSP to be really beneficial. It generated a great understanding for our staff to see the journey they could go on to make themselves the best DSP they can be and for them to be fulfilled by the impact they could make by being really great at their jobs."
We are incredibly proud of Erin and the whole team at Black Hills Works. Dan Hermreck, Director of Certification and Accreditation at NADSP said "We didn't expect to be celebrating this milestone quite so soon, but Erin's existing portfolio work and her obvious dedication to the process helped her to quickly master the requirements for a DSP-I Certification. Well done, Erin!"
We look forward to continuing to celebrate these achievements as The NADSP E-Badge Academy grows!