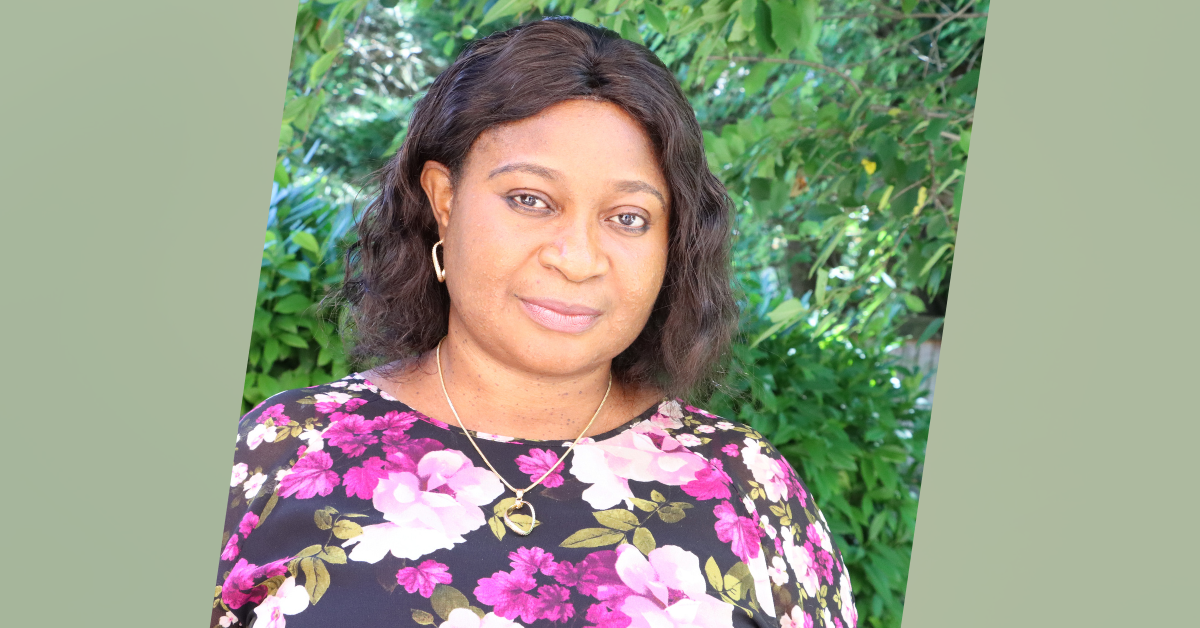 NADSP E-Badge Earner of the Month: Racheal Ismail
Congratulations to Racheal Ismail who has been selected as the October 2022 NADSP E-Badge Academy Earner of the Month.We are recognizing Racheal for her excellent 'Cultural Reflection' E-Badge submission. This badge represents a Direct Support Professionals' work in recognizing their own biases and doesn't let them interfere in work relationships. This badge is part of the Cultural Competency CMS Core Competency. It also aligns with the NADSP Competency Area of Provide Person-Centered Supports.
Racheal works as a Direct Support Professional at The Arc Baltimore in Maryland. The Arc Baltimore supports people with developmental disabilities to lead fulfilling lives with a sense of belonging, purpose, and meaningful relationships.
Racheal​'s Experiences With The NADSP E-Badge Academy
The National Alliance for Direct Support Professionals (NADSP) recently asked Racheal about her experiences with the NADSP E-Badge Academy. The questions covered how she carries out her work as a direct support professional, the skillsets she demonstrates on a daily basis, the impact that the E-Badge Academy has had on her professional recognition, and how she gets credit for competency.
Describe the story you shared in carrying out that competency:
The individual I support is an Orthodox Jewish woman who takes issues of her religion very serious. She is on a wheelchair. She requires me to take her to the Synagogue and stay with her until she is done, and bring her back to the house, mornings and evenings on a daily basis. She also requires me to assist her perform certain rituals since she cannot do those things by herself.
When I initially started supporting her, I found these duties very offensive and against my religious beliefs, and this greatly affected my ability to provide Person Centered Support. However, things took a turn for the better after taking the NADSP Code of Ethics trainings. After the training, I realized my personal beliefs were interfering with my ability to provide Person Centered Support. I decided to quickly make an adjustment because I came to realize that to perform Person Centered Support, I have to separate myself and everything about me from my job. I have to treat the individual with respect and dignity, and also encourage her in whichever way she chooses to live her life. I now see and do things differently. I take her to the synagogue, wait for her and bring her back to the house, and when she is unable to go to the synagogue, I arrange a section of the house where she can say her prayers while I stay around to support in carrying out any ritual she is unable to perform. Last year, we attended the Jewish retreat and spent two days together in the camp, and I was of tremendous support to her, and she was happy about that.
Having realized that my personal bias was affecting my ability to provide Person Centered Support to the individual, I made a choice to detach my religious beliefs from my job. 
Why is this competency so important to DSPs?
Cultural competency is important to DSPs because it is important that we interact with others in a respectful manner.  Part of that respect is valuing and supporting someone's whole self (gender, disability, religion, sexual orientation, ethnicity, socio-economic class, etc.).
How have you used this competency in your work?
I decided I needed to make an adjustment, as I realized that to provide Person Centered Support, I have to separate my culture and my religious beliefs from my job.  I also have to respect every culture and religion of those I support.  This has helped me to empower the people that I support to live a more fulfilled and meaningful life.
How can other DSPs replicate your practices?
They can get to know the people they support and really understand who they are.  Once they know that, they can put any personal thoughts or biases aside and focus on supporting the person.  DSPs are there to support people with their needs and some of their needs may be culturally based.
How does the NADSP E-Badge Academy benefit your agency?
The NADSP E-Badge Academy benefits The Arc Baltimore because it helps the DSPs to feel better about their job, understand how to do it well, and give them more tools to understand why we do what we do.  It also helps keep employees around because it shows that The Arc is making an investment in the employees.
How does NADSP E-Badge Academy benefit the people you support?
It benefits the people that we support because it helps to remind people to treat others with respect, compassion, love, and to provide open conversations and choices.
What does the future hold for your involvement in the NADSP E-Badge Academy?
I completed the first and second certification, but I would like to complete my third DSP certification.
How has NADSP E-Badge Academy affected your professional image?
It as helped me to be more professional, to understand why I do certain tasks, and to help keep me open minded.  I do feel stronger in my occupation. I feel like I have more skills, a better understanding of how to support people, and know how to provide more choices and advocacy.
Words fromThe Maryland DSP Apprenticeship Program
"The Maryland DSP Apprenticeship program has assisted our employees with skill development while expanding their ideas & perspectives to aid in re-energizing their passion for this work.  This program aids in building healthy relationships between colleagues, family members, and those that we support. It makes an impact on our entire organization.  We are very proud of Racheal's hard work and dedication to earning her e-badge and being recognized in this way." – Bridget Roth, LCSW-C, Senior Director of Staff Professional Development & Training, The Arc Baltimore
"The goal of the Maryland apprenticeship is to impact the Direct Support workforce throughout Maryland by creating a community where knowledge is shared, skills are developed to collaboratively improve the quality of the lives of the people we support.  We are very proud and celebrate Racheal's achievement, hard work, and relentless pursuit in providing quality services to the people she supports" ─. Dorothy Saël, Apprenticeship Training Manager, Humanim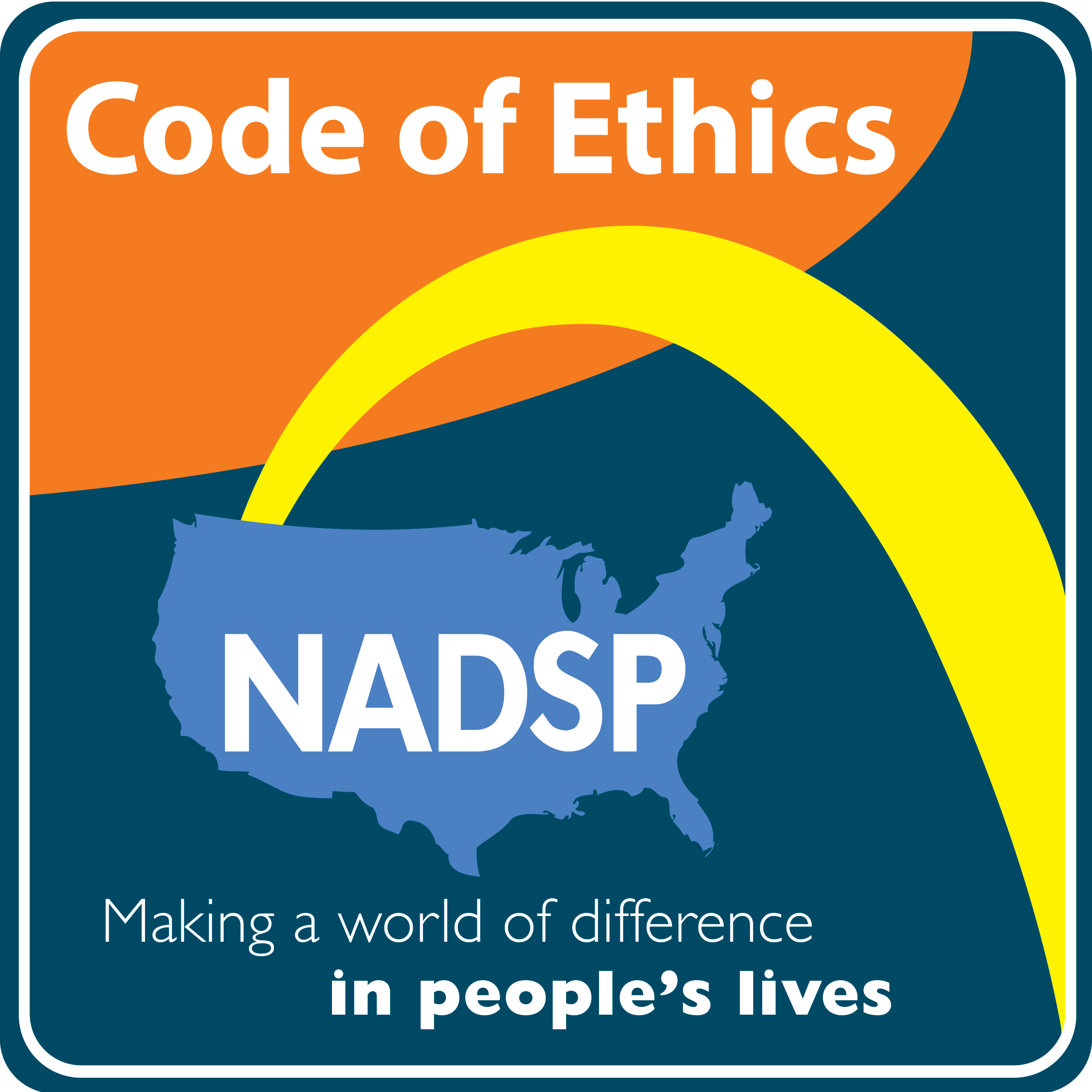 The NADSP E-Badge Academy
The NADSP E-Badge Academy offers Direct Support Professionals (DSPs) and Frontline Supervisors (FLSs)  the ability to earn national certification through stackable electronic badges. These badges demonstrate the knowledge, skills, and values that these professionals utilize every day, recognizing the professional development that might otherwise go unacknowledged.  Through the NADSP E-Badge Academy, DSPs and FLSs are acknowledged for the experience and education that they bring to the human services field.
NADSP E-Badge Academy Earners Of The Month