Congratulations to Alaba Owolabi, who has been selected as the NADSP E-Badge Academy Earner of the Month for November of 2020. Alaba is being recognized for her excellent 'Crisis Documentation' E-Badge submission. This badge represents a DSP's skill in using documentation in a way that reduces the likelihood of a crisis re-occurring in the future.  This badge is part of the Crisis Prevention and Intervention CMS Core Competency and also aligns with the NADSP Competency Area of Documentation.
Alaba works as a Direct Support Professional for Penn- Mar Human Services. The mission of Penn-Mar Human Services is to transform life into living for individuals, families, our staff and volunteers. Penn-Mar Human Services, founded in 1981, supports more than 400 adults with intellectual disabilities through its residential, respite, educational, day learning center and community based programs, plus customized employment support in northern Baltimore, Carroll and Harford Counties in Maryland, and in southern York County in Pennsylvania.
Alaba's Experiences With The NADSP E-Badge Academy
The National Alliance for Direct Support Professionals (NADSP) recently asked Alaba about her experiences with the NADSP E-Badge Academy. The questions covered how she carries out his work as a direct support professional, the skill sets he demonstrates on a daily basis, the impact that the E-Badge Academy has had on her professional recognition, and how she gets credit for competency.
1. Describe the story you shared in carrying out that competency
It is a story of the individual I support who has a history of mood and attitude disorders. Whenever his mood and attitude disorder occurs, he will just lie down on the road side without being afraid of vehicle movement. After the incidents, I reported to the person in my agency. This really helped me to be able to support him the more. I looked at the documentation of him that shows clinical evaluation, investigation and management planned. He was diagnosed with down syndrome, speech impairment and anger disorder. I also consulted his mom because she knows him better. She told me whenever he is stressed out or angry, he shows such attitude. What I did to get him out of the situation was to try to understand him and be friendly by applying all the information I got about his life. I know safety for the person I care for is of first importance. I tried to ask questions from his mom in order to help me to get to know him better. Likewise, I created a friendly but professional relationship with him, with consciousness of taken boundaries into consideration. I also put his emotion into consideration through person-centered listening.
To help avoid situations that may cause stress and create situation for mood and attitude disorder occur, I make sure that whenever we want to go out to places, he desires, I make sure he is well dressed and happy before we leave his home. I help him check his shoes to make sure the bottoms are intact. Once we arrive to where we are going, I look for the safest and easiest way for him to navigate. I remain close to him while we are walking to help him feel comfortable and safe in the environment. Since I have worked closely with him for several years, I know things that may cause him stress and if they are present there is more likely to be a situation where mood and attitude disorder occurs.
2. Why is this competency so important to DSPs?
It is important because it helps DSPs to follow the Code of Ethics of NADSP and as well as to know that documentation is not paper work, but rather people's work. It helps us to focus on the safety of the people we support. It helps DSPs to give a person-centered support to help the people we support to live a happy and meaningful life. It helps to understand the importance of crisis documentation for people we support and to see them as people with capacity to be responsible for their safety too. Above all, it helps DSPs to recognize that they are capable of directing their lives.
3. How have you used this competency in your work?
I have used this competency to give a person-centered support to help the people I support to live a meaningful life, and to be happy like every other person in the society.
4. How can other DSPs replicate your practices?
Firstly, is for every DSP to believe in the Code of Ethics of NADSP. It is not just to give better support but also to improve the understanding of DSPs as well. Secondly, they need to apply the competency to their daily lives and relationship with the people they support.
5. How does the NADSP E-Badge Academy benefit your Agency?
Good question, in fact, my agency has benefited greatly because the NADSP E-Badge Academy enhances my understanding of the people I support and also shapes my mindset about documentation. .
6. How does NADSP E-Badge Academy benefits the People I Support?
I see the people I support enjoying the supports I give. It helps them to find person- centered fulfilment; they are able to express themselves, it promotes safety consciousness for them. They are able to be happy, I see their self-esteem built up daily. We are able to relate well though being conscious of boundaries rule and see them seeing that they are being listening to their feelings and worries. Above all. I see them taking control of their lives.
7. What does the future hold for your involvement in NADSP E-Badge Academy?
Honestly speaking, I see future brighter for me as part of the  NADSP E-Badge Academy. I want to learn more and also believe that I can contribute to the success of NADSP E-Badge Academy in future.
8. How has NADSP E-Badge Academy affected your professional image? Do you feel stronger professional identity with your occupation?
My answer is 'YES' to both questions because I see an improvement in my personality and in the way I carry out my services as a DSP in a professional way as compare to before. Thanks to NADSP E-Badge Academy.
9. Do you feel more skilled?
Yes of course, I do.  The NADSP E-Badge Academy Training has made a great impact on me.
10. How does NADSP E-Badge Academy give you credit for competency?
Wow, the whole process is really deep. The NADSP E-Badge Academy reviewers read every competency with a critical focus. They make corrections where work does not align with the NADSP Code of Ethics and ask me to review and resubmit. So, to earn this competency was not a one goal thing. The process was really helpful for me.
Well Wishes from Penn-Mar Human Services
"As a DSP-II, Alaba has worked hard through each level of certification and has put what she's learned into practice, providing person-
centered supports through every avenue of her work. Alaba advocates with the people around her and has dedicated herself to be the best possible DSP; we are extremely proud to have her as part of our team."
– Kelly Fry, Career Ladders Program Coordinator, Penn-Mar Human Services
"I am so proud of Alaba and the way she values the importance of trust in her relationship with those she supports.  Her heart of understanding is one that is a model for all DSP's at Penn-Mar and Alaba's willingness to listen and learn is what we all should be pursuing each day."
– Greg Miller, CEO, Penn-Mar Human Services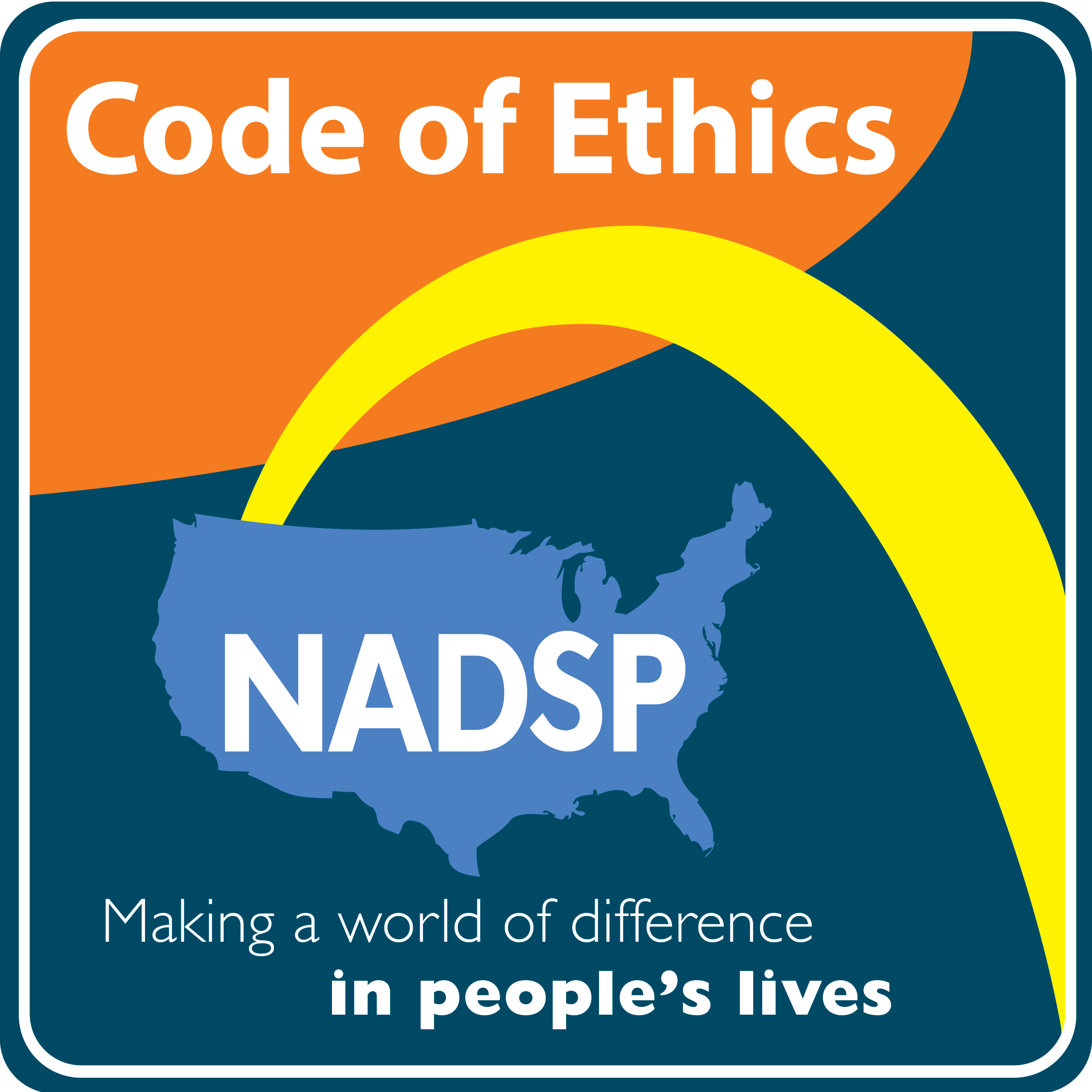 The NADSP E-Badge Academy
The NADSP E-Badge Academy offers DSPs the ability to earn electronic badges as a way to demonstrate their knowledge, skills, and values on the job. These E-Badges recognize and celebrate the professional development that might otherwise go unnoticed. Through the NADSP E-Badge Academy, DSPs are acknowledged for the experience and education that they bring to the human services field.
###
About NADSP
The vision of the National Alliance for Direct Support Professionals (NADSP) is a world with a highly qualified and professional direct support workforce that partners with, supports, and empowers people with disabilities to lead a life of their choosing. NADSP works to elevate the status of direct support professionals by improving practice standards, promoting system reform, and advancing their knowledge, skills and values, through certification, credentialing, training, professional development, and accreditation services.