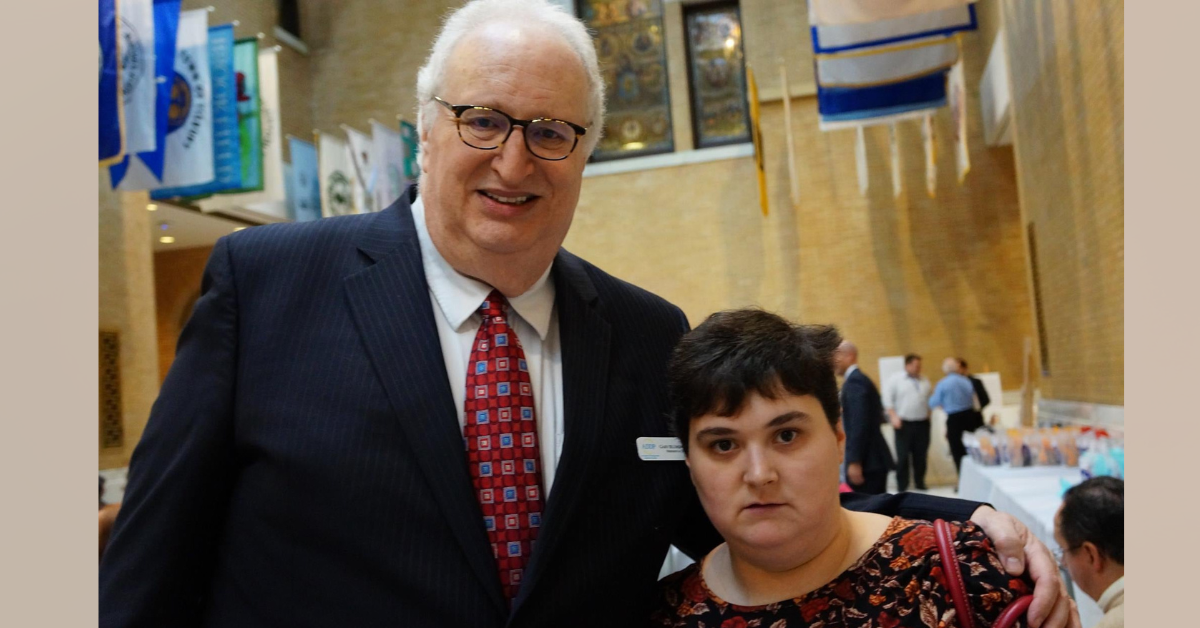 The 2022 John F. Kennedy Jr. Award for Workforce Advocacy and Leadership
2022 John F. Kennedy Jr. Award for Direct Support Workforce Leadership and Advocacy
Gary Blumenthal, InVision Human Services
2022
The National Alliance for Direct Support Professionals Board of Directors is proud to recognize Gary Blumenthal with our most prestigious award, The John F. Kennedy Jr. Award for Workforce Advocacy and Leadership for his decades of active advocacy of behalf of direct support professionals in their essential roles in the well-being of individuals with disabilities.
Gary has had a career stretching from coast to coast and ranging from elected office and presidential appointments to executive management and advocacy positions. The common thread of his career has been a commitment to inclusion and well-being of individuals with disabilities, bolstered by having a brother with a developmental disability, and a related recognition that direct support professionals (DSPs) were critical to positive outcomes.
In the early 1990's, Gary served as President Bill Clinton's newly appointed Executive Director for the President's Committee on Persons with Intellectual Disabilities (PCPID) where he envisioned a committee that would be a catalyst for change within the United States.  It was John F. Kennedy, Jr.'s membership on this committee that reinforced Gary's strongly held belief of the critical importance of state action in that area. Stemming from his 10 years as a state legislator in Kansas, he established a program of National Collaborative Academies that brought together cadres of state legislators, state officials, service providers, opinion leaders and advocates from selected states to create a collaborative body to learn and plan together for deliverable actions upon returning to their respective states. The menu of topics of the academy included recruitment, training and sustaining an effective direct support workforce. During his tenure as PCPID's Executive Director, President Clinton was delivered a Report to the President in 1996 entitled, "Opportunities for Excellence: Supporting the Frontline Workforce," which was one of the first national reports about the value of direct support professionals. Gary also invited a broad stakeholder group of industry leaders to develop the "Code of Ethics" for the workforce.
Although Gary's commitment to creating and sustaining a high-quality workforce may have been first evident to many of us in his leadership of PCPID, we have seen that commitment reflected in a variety of subsequent roles such as; Florida's Protective & Advocacy Director, Regional Social Services Director for his home state of Kansas, California's Regional Developmental Disabilities Service Director, Massachusetts state provider agency director and most recently in Pennsylvania as the Director of Advocacy for InVision Human Services.
Gary has long noted the inadequate compensation and respect for direct support professionals, the resulting staffing shortages and ultimately the threats to the health, community access and personal freedom for people with disabilities. Recently, Gary has been stressing that this long-standing problem is more serious than ever and that the promises made in establishing community supports have run into an inability to staff them.  As Gary recently wrote in the Pittsburgh Business Times, "Shortages of DSPs are at a crisis point, the worst in nearly 60 years. The problem is so bad that families who have waited, sometimes 10+ years, for services are being told they are eligible, but services are unavailable because there is no staff to perform them." Gary's ability to form partnerships, his political savviness, advocacy and persistent tenacity have strongly influenced significant policy advocacy in Pennsylvania that has resulted in increased funding of $405 million towards direct support wages.
We will celebrate Gary Blumenthal's decades of leadership and advocacy on behalf of the nation's direct support workforce during NADSP's DSP Recognition Week Virtual Event, on Wednesday, September 14th.
To view previous John F. Kennedy Jr. Award for Direct Support Workforce Advocacy & Leadership honorees, click here.