Moving Mountains Best Practices
2005-2006 Award Winner Four
Stars Program
The Arc Northern Chesapeake Region, Aberdeen, Maryland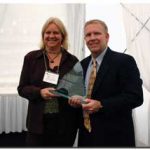 The Stars program is an employee incentive program designed to increase the value of and respect for Direct Support Professionals by creating a career track for them within The Arc Northern Chesapeake Region. It is also a way for the organization to recognize and reward employees for their outstanding achievement and commitment in the role of Direct Support Professionals (DSPs).
The Arc began work on the program in 2001 because many DSPs had indicated that, although they love providing direct supports, they were disappointed with the lack of career advancement for DSPs at the agency. A team of employees, including direct support staff, began studying the situation, and over a period of time designed the Stars Program. This career advancement and DSP recognition program gives employees the opportunity to receive tuition benefits, enhance their professional skills, and receive advanced training in the developmental disabilities field. The program was implemented in January 2003.
The Stars program offers a three-tiered career track for DSPs at The Arc with a cash incentive for each tier level achieved. Within those tracks is the opportunity to grow professionally through either advanced skill training or formal education programs. Each Stars participant must also assemble a portfolio to demonstrate his/her educational or training achievements and mastery of the Community Support Skill Standards. The Portfolio is designed to illustrate, in a comprehensive way, the many skills, values and attitudes that each participant contributes in his/her daily work supporting people with disabilities in achieving their desired outcomes. A portfolio must be assembled for each tier of the program. The portfolio process offers Stars participants the opportunity to shape and direct their own learning and assessment experience by selecting examples of their real work products that show proficiency in required competencies and their relation to the desired outcomes of the people they support.
Ultimately The Arc's purpose is to improve the lives of and outcomes for the people that the organization supports. To accomplish this goal, The Arc needs competent and highly-committed DSPs. The organization believes that the Stars Program is a good recruitment tool for bringing the very best DSPs to The Arc. In addition, The Arc provides increased opportunities for professional development and education to help direct support staff stay longer and provide better supports to persons with developmental disabilities.
For more information, please contact: Cindy Lindgren, Stars Administrator, The Arc Northern Chesapeake Region, 4513 Philadelphia Road, Aberdeen, Maryland 21001; Phone: 410-836-7177 Ext. 386, Fax: 410- 893-3909, E-mail: clindgren@arcncr.org.