Moving Mountains Best Practices
2005-2006 Award Winner
Kansans Mobilizing for Direct Support Workforce Change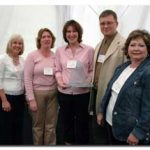 Since 2002, Kansans Mobilizing for Direct Support Workforce Change (KMFC) has worked to enhance the status of the Kansas Direct Support Professionals (DSPs) who support people with developmental disabilities, as well as to improve recruitment and increase retention rates of DSPs. Two years of initial funding from the Kansas Council on Developmental Disabilities united fifteen service providers, self-advocates, families, other Kansas' DSP workforce development stakeholders with University of Kansas and the University of Minnesota to address issues of DSP recruitment and retention. Turnover decreased by 15% in participating organizations during the two-year project.
As a result of KMFC involvement, service providers report that they changed marketing and recruitment practices, changed orientation and training practices, and implemented recognition and other high performance practices for DSPs. In addition to incorporating the strategies learned into their organizations, members have assisted other employers in adopting successful strategies. Members provided training and technical assistance to supervisors and administrators of other community service providers on topics related to removing the revolving door, supporting a diverse workforce, and peer mentoring. Workforce tools have been distributed widely across Kansas. The Realistic Job Preview Video/DVD helps applicants determine if the job is a good match prior to formally applying for a DSP position. The DSP Recruitment Toolkit provides templates for advertising DSP positions effectively. The Kansas Alliance of Direct Support Professionals was started with support from KMFC. The governor of Kansas declared a Kansans Mobilizing for Direct Support Workforce Change Day in 2005.
Online training through the College of Direct Support (CDS) and the College of Frontline Supervision was offered to KMFC participants. During the first two years DSPs completed over 3,900 lessons. For some organizations, CDS has become an important training component. Over 6000 lessons have now been completed. Collaboration among KMFC members allowed for group purchase for a year after funding ended. KMFC is working to make CDS available across the state. As a result of member advocacy, making CDS available statewide was identified as an immediate priority in the Social and Rehabilitation Services' Strategic Plan 2005-2010 and placed in the department's budget request for this year. KMFC is currently working to get legislative approval for this request.
KMFC developed a certification and apprenticeship program for DSPs. The program was registered with the Kansas Apprenticeship Council in 2005. A cohort of eight DSPs from two organizations was certified in July 2004. A second cohort of fifteen DSPs from two organizations was certified in January 2006 after meeting all requirements for the first two levels of training.
Kansas members continue to expand their efforts to address recruitment and retention, meeting face-to-face quarterly and collaborating with others in their local communities and via conference call between meetings. KMFC continues to review data to identify variables effecting turnover.
For more information, please contact: Kathy Olson, PhD., Kansans Mobilizing for Workforce Change, c/o Kansas University Center on Developmental Disabilities, 2601 Gabriel, Parsons, KS 67357; Phone: 620-421- 6550 ext. 1771; Fax: 620.421.6550, ext. 1702; Email: Kolson@ku.edu. The project website can be found at http://www.workforce.lsi.ku.edu/.