Moving Mountains Best Practices
2005-2006 Award WinnerTitle
Ark Regional Services
Laramie, Wyoming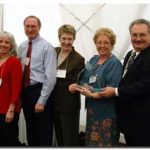 Ark Regional Services, Laramie, Wyoming, is a community service provider offering multiple opportunities for people with developmental disabilities to learn and grow in an enriched environment. The agency provides Medicaid Waiver funded residential and vocational services to adults. Services include community employment, day habilitation, occupational therapy, speech language pathology, skilled nursing, and service coordination. In addition to hippotherapy and therapeutic riding, classes in art, horticulture, drama, yoga, dance, and culinary arts are available through the Creative Arts Center.
To meet the challenges of recruiting and retaining a well-trained work force, Ark developed an innovative approach to training and compensation based upon demonstrated competency. The CBPS (Competency- Based Performance System) clearly demonstrates the agency's commitment to high quality training, equitable compensation, professional growth, and career development for Direct Support Professionals (DSPs). The CBPS includes two components; 1) carefully crafted performance standards, and 2) highly-specifi ed instructional methods. Each standard is designed to provide clear, concise staff performance expectations, which are teachable, observable, and applicable in the work setting. The instructional method ensures training consistency and provides a way to sustain and support all staff development efforts.
The training department and front-line supervisors implement the method by-
Informing DSPs of key performance expectations.
Modeling what performance standards look like when performed properly.
Observing and providing feedback as each staff member gains understanding and practices his/her skills.
Monitoring for consistent and proficient skill development and application over time.
Career development opportunities are offered by Ark Regional Services via two programs: 1) a two-year U.S. Department of Labor Certified Apprenticeship Program for Direct Support Specialist; and 2) a Developmental Disabilities Certification Program currently being piloted through the collaborative efforts of Ark and the University of Wyoming, Disabilities Studies Program.
Some benefits to Ark Regional Services since implementing this training process include –
Increased performance accountability on the part of DSPs and frontline supervisors resulting in better quality services for the people who receive services from Ark
Increased consistency in performance and skill application
Utilization of a holistic observation approach that integrates all performance standards ensuring that staff members apply and retain learned skills
A significant reduction in agency turnover rates
Greater job satisfaction for staff members
The demanding aspects of the direct support profession require a concerted effort to support staff members in their work setting. Ark's CBPS supports the needs of direct support staff and frontline supervisors, ensures that the needs of people receiving services are met, and improves the quality of services throughout the organization.
For more information, contact: Jacquelyn Walker, Ark Regional Services, 1150 N. 3 St., Laramie, Wyoming 82072; Phone: 307-742-6641; Email: jwalker@uwyo.edu.